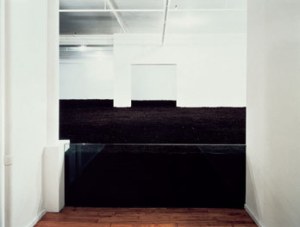 The New York Earth Room, the long-running installation in a SoHo loft by artist Walter De Maria cared for by the Dia Art Foundation, will be closing for its annual summer break on June 10—that's tomorrow.
The installation, which is composed of 250 cubic yards of earth, takes up 3,600 square feet of floor space and weighs 280,000 pounds, opened to the public in its current home on Wooster Street in Soho in 1980, the third version of Mr. De Maria's work. The first opened in Munich, Germany, in 1968, and the second in 1974 at the Hessisches Landesmuseum in Darmstadt, Germany. The first two no longer exist.
What happens to the earth when the doors close? Not much beyond its normal care to make sure the work can live on, the oversight of which is handled by Bill Dilworth, The New York Earth Room's longtime caretaker. "They turn the earth and till it," said Melissa Parsoff, director of communications at Dia. It's also known to get pretty humid in there since there's no air-conditioning so consider yourself saved from untold bad hair days this summer.
Nonetheless, if you plan on checking it out tomorrow, The New York Earth Room will be open from 12 p.m. to 6 p.m. (though it closes for a staff break from 3 to 3:30 p.m.). If you miss out, no worries. It opens again on Sept. 12.