Andre Saraiva doesn't just own the keys (and velvet rope) to Chinatown's most impossibly hip club, Le Baron, but the Frenchman-about-town fancies himself an artist as well. To wit, his first major solo show—subtly titled Andrépolis—premiered last night at Bowery gallery The Hole. It has been characterized as an "urban phantasmagoria" by Purple Magazine's Olivier Zahm, who also explains that "the exhibition has a surprise at the end, a carousel for adults, for those who are not afraid to ride the wings of desire."
And oh, does it ever.
As duly noted and quietly documented by a friend of the Observer who was on the capital-S Scene, this may in fact be the centerpiece of the exhibition: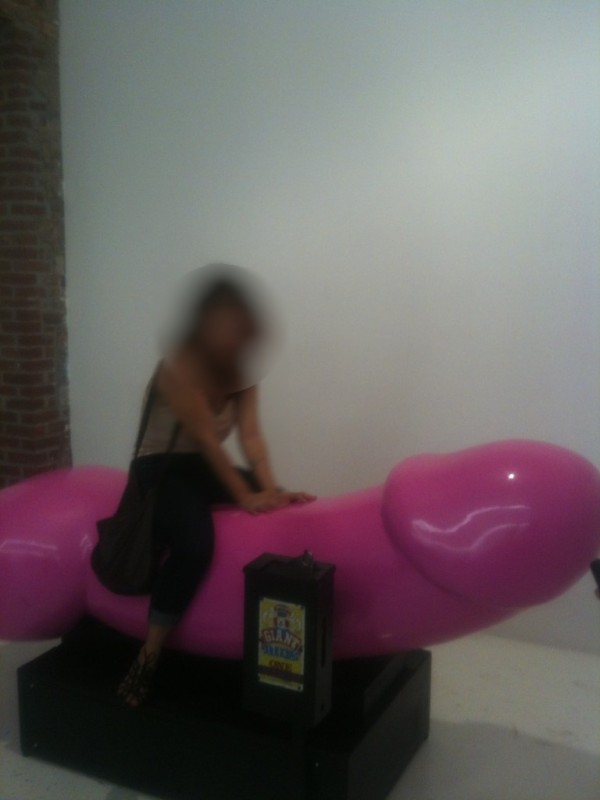 As endless as the captioning possibilities are—rather than take our own hand to this*—we simply asked our correspondent if they had, in fact, taken this thing for a spin:
I did not ride it. I didn't have to! Anyone who walked into that gallery was effectively riding Andre's cock.
And so it was! Andre Saraiva's "cock" may be taken for a spin by you, at The Hole (312 Bowery), Tuesday through Saturday, 12-7PM.**
fkamer@observer.com | @weareyourfek
[*Sorry, had to.]
[**Also, at 32 Mulberry Street, generally anytime after 11.]