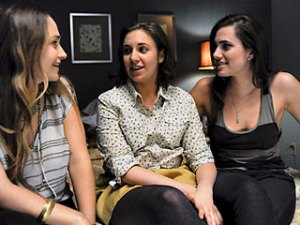 Remember when Sex and the City bus tours became a thing? Well, the forthcoming moment in time when—yet again—an HBO show about four (Caucasian) women of New York City inspires bus tours to the real destinations these fictional constructs hang out at may soon be upon us.
In other words, gird your locales.
WNYC and The Guardian partnered up and took it upon themselves to compile a list of all of the locations that 'Girls' has filmed at, and then throw them into the despicably handy form of a Google Map.
Among the locations are:
And so on. The result of this has the potential to be wildly amusing. There are the resentful locals who despise 'Girls' for its facile-yet-generally-accurate portrayal of their lives, and the tourists who are inspired to follow in Hannah & Co.'s footsteps, mixed together.
If you live near or frequent these locations, and the threat doesn't seem considerable, then consider this: Instead of out-borough tourists just going to "Williamsburg" or "Brooklyn"—simply because of their reputations as destinations for "alternate" cool—all of those people now have a television show explaining where they should go, specifically.
Another way to put it: Do you know remember what Pastis was like before 'Sex and The City'?
Neither does anybody else. And the most embittering part of all?
The creators and cast members now make enough money to emigrate from the Brooklyn that inspired their masterwork. To Manhattan. And to parts of Manhattan where they will, in all likelihood, rarely encounter the tourists who come in search and/or tribute of them.
Here's the map. Batten down those hatches:
[nyo_girlsmap width="100%" height="400″]
http://project.wnyc.org/girls-map
fkamer@observer.com | @weareyourfek