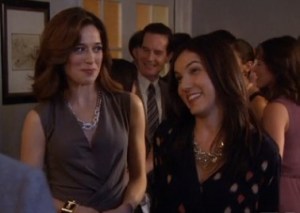 There's no telling whether or not, on Gossip Girl debut in September 2007, the show's creators anticipated the distinct fervor over the show from adults. In turn, this obsession turned into a mobius strip perpetuated by the mechanism that is the Highbrow Cameo Appearance, whose significance would only be truly appreciated by those with the context to understand what canny remark the writers were making by bringing them in.
Everyone from Jay McInerny to New York Times theater critic Charles Isherwood to this paper's owner to—but of course—New York magazine's Approval Matrix (which, of course, made a recent Approval Matrix in the magazine).
But what is it like to be plucked, as though by the cloud-like hand of the Gossip Girl casting gods, and immortalized for fifteen seconds of television, mostly to an audience of teenagers who probably don't know who you are?
Isherwood himself once attempted an explanation of this in the pages of the Times. It began with a quote by Gore Vidal. Needless to say, it was not sufficient.
At least, not compared to essayist Sloane Crosley's entry in this month's issue of The Believer, in which no less than 4,625 words are dedicated to the experience, which—in toto—is apparently akin to living through the last thirty minutes of Adaptation, with disappointingly less drug use, and Susan Orlean having been replaced by the guy who plays Chuck Bass.
For example, this is what it's like to experience the pressure of having to dress one's self on Gossip Girl:
She pulled the last dress from my bag and called for her assistant.

"This will work," she said. "But tell you what—why don't you borrow a pair of these?"

We were flanked by walls of overpriced designer fabrics and tailoring that glimmered at every turn. I peered over her shoulder, anticipating a tray of designer earrings or, say, some very expensive shoes.

She handed me a pair or Spanx.
And this is what it's like to share a scene with Chuck Bass:
Leighton wasn't in my scene. Nor was Blake Lively (who plays Dan's ex, Serena) or Jessica Szohr (Dan's childhood friend, the bi-racial daughter of Vermont hippies, whose mom is a dead ringer for Maya Angelou) or Chace Crawford. But Ed Westwick, the stylish Brit who plays Chuck, was. During the long breaks between takes, in which the women lay on the master bed like mummies, lest they ruin their makeup, Ed chatted with concern about riots in London that had been dominating the news. Then he showed me a perversely hilarious video of a horse being hit by a truck on a country road.
Emphasis ours. Needless to say, not that we've watched in a few years, but this has ruined Gossip Girl forever for us, in that it will in no way be as hysterically funny or as remotely interesting as Ms. Crosley's on-scene exploits (especially of note: the piece of dialogue given to her, a surprise not at all worth spoiling).
Do enjoy:
A DOG NAMED HUMPHREY [The Believer]
fkamer@observer.com | @weareyourfek