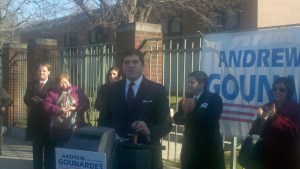 Attorney Andrew Gounardes, the Democrat challenging State Senator Marty Golden in November, is bringing in some top Greek names in Democratic politics to give his campaign a boost, and he is even going all the way down to Washington D.C. to do it.
Indeed, helping Mr. Gounardes raise money next week are two Greek-American Congressional Members: John Sarbanes and Niki Tsongas (wife of former presidential candidate Paul Tsongas), who both hail from localities far away from the southern Brooklyn district Mr. Gounardes is seeking to represent.
This is not the first time that the Greek community has been present in the race. Once Mr. Gounardes, who is also of Greek descent, made his intention to run against Mr. Golden clear, the incumbent went into what Crain's called "Greek overdrive," campaigning heavily among his Greek-American constituents.
Also attending the D.C. event are Eugene Rossides, the Assistant Secretary of Treasury under President Richard Nixon, and Patrick Theros, the United States Ambassador to Qatar under President Bill Clinton, and as you can tell from the surnames on the invitation below, a whole lot of Greeks:
[scribd id=96872470 key=key-239k357ao8so108aog6r mode=list]