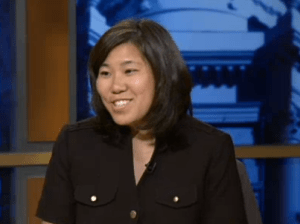 Due to a loophole in this year's uniquely layered election calendar, it's possible for members of the State Legislature to simultaneously run for Congress and for reelection in Albany, providing a potential escape hatch should they lose their congressional bid. There is some controversy as to whether State Senator Adriano Espaillat is doing this or not, but Assemblywoman Grace Meng made clear during a congressional debate last night that she's currently all-in for Washington D.C.
"I am not circulating petitions to run for reelection as an assembly member and right now I am 100% focused on winning the congressional race," Ms. Meng stated.
This is notable because Ms. Meng's campaign spokesman hadn't ruled out the possibility while one of her opponents, Assemblyman Rory Lancman, definitively had.
The deadline for turning in signatures is July 12th at midnight, which would make it feasible for a losing candidate in the June 26th congressional primary to also run for state office, but it would be difficult to gather enough signatures in such a short time window. And, as Democrats — including one backed by the county's Democratic organization, Ron Kim — pile into the race for Ms. Meng's seat, it'd also be an awkward situation for her to suddenly announce a run for reelection should her congressional campaign go awry.
For his part, Mr. Lancman repeated his opposition to this maneuver last night.
"I'm not circulating petitions I don't have an intention to run for the assembly," he said. "There are people who running for my assembly seat right now and I always thought it would be unseemly to — at the same time that I'm running for Congress — have a backdoor plan to run for reelection at the assembly at the last minute."
Two other candidates in the race, Democratic Councilwoman Elizabeth Crowley and GOP Councilman Dan Halloran, are not up for reelection until 2013 and would suffer no risk to their current positions should they be unsuccessful.