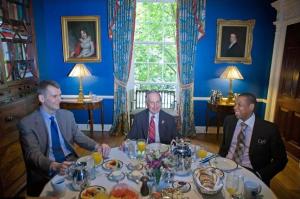 If Gracie Mansion were our friend, we'd lightly slap her face and tell her to snap out of it. "Put down that compact mirror, girl," we'd chide. "You don't need botox or permanent eyeliner tattoos. You look great as is. Don't go changing yourself for some man." She'd then probably start crying and wailing, "Why, oh, why doesn't he love me?" at which point we'd start feeling awkward and might hand her a box of Kleenex to shut her up.
Because the thing is, we don't know why Mayor Michael Bloomberg doesn't love you, Gracie. We don't know why he refuses to live inside your beauteous walls (well, maybe we do), but the thing is, changing how you look won't help. It won't bring your man home. You're wasting your time, squandering your money, and becoming a cliché. And yet, we know you won't listen to us. We know you'll do it anyways; we know you'll have your kitchen remodeled.
And whatdoyouknow? We were right.
For the first time in 27 years, Gracie Mansion will be getting a new kitchen, and a swanky one at that. For $1.4 million, the mazelike walls will be knocked down, refrigerators will be installed, and the mechanical, electrical, and plumbing systems as a whole will be improved. "It's about time," Mitchel London, the chef for Mayor Edward I. Koch told The Times. And he would know. He was there when the kitchen was still new.
Specific details on the new kitchen have not been released, but the renovation will be spearheaded by Studios Architecture, Petretti & Associates Construction Management, and Drake Design Associates. More importantly, the project has been funded entirely, we repeat, entirely, by the Gracie Mansion Conservancy through their fundraising events and other sponsorship opportunities, with not a cent coming from the Mayor himself.
Which begs the question, why renovate? Especially when no one lives there full-time? Well, it turns out that quite a few events are actually held at the mansion each year so having a new, modern kitchen will be quite a treat for the kitchen peons. Finally, no more running outside to the well to retrieve water.