fantastic drunks who enjoy short-selling
the rest of the world's suckers.
Cut to today! We're not sure whether or not this is routine business—or just how routine this is, but this just showed up in our inbox: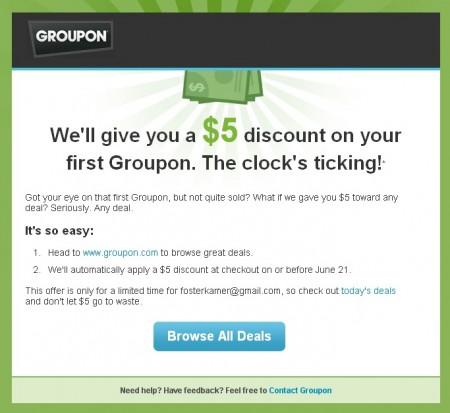 Yes, that is a Groupon—or technically, really, a coupon (even worse)—for a Groupon. A few things to note here:
1. We unsubscribed from Groupon around the time of the IPO. Or at least we attempted to, however unsuccessfully.
2. We definitely don't receive any Groupon offers on a regular basis. How would we know what to use our Groupon on a Groupon for?
3. This:

To paraphrase Randy Jackson: Kinda pitchy, dawg. $GRPN recently hit an all-time low when hit $8.85 on Monday (it closed at $8.95). Maybe they should offer a Groupon on shares of $GRPN? We'd buy that. Maybe.

But they'd have to resubscribe us to their email list first.

fkamer@observer.com | @weareyourfek

Remember Groupon? It's the daily deals company that went public in November, much to the excitement of the investment banks who helped take a chunk of the company's cash and