Hans Ey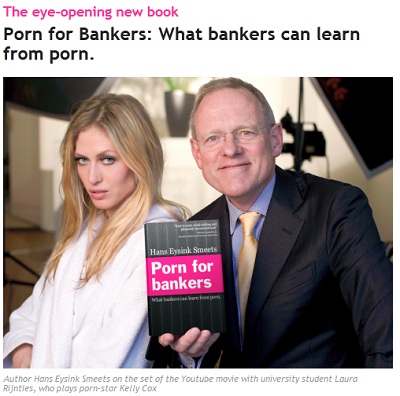 sink Smeet is a self-described former-banker and retail consultant in Amsterdam, who noticed, sadly, that all of the old sex shops that marked his daily walk from train station to office had disappeared. Well, Mr. Smeet was not at a loss for an answer: The porn industry, he knew, had gone online. "Anyone with a video recorder and a bare bum can make a porn and put it on the internet," he told Business Insider. We'd hate to cast aspersions, but we doubt that's news to you—the idea appealed to Mr. Smeet, however, as the kind of lightning bolt on which a literary reputation could be based—or at least, an idea that might give him an excuse to hang out with porn stars*. And so he sat down with his son Rik, who co-authored, and started dictating:
Most of the products the porn industry sold were mere carriers of porn. DVDs, videotapes, magazines. With the obsolescence of these carriers, the stores disappeared. Not long afterwards that spilled over into porn retail. The Information Retail Revolution was then a reality. Conventional brick & mortar outlets closed their doors. This Information Retail Revolution is now making casualties in many sectors. Not only porn has trouble with the branches. So do post offices, cdstores, games-outlets, travel agents and many, many more sectors. And retail banks.
Anyway, the guy seems to be building a whole brand around the concept, so maybe we should give him the benefit of the doubt. Intrigued? Go here.
*Or fake porn stars? Unclear.