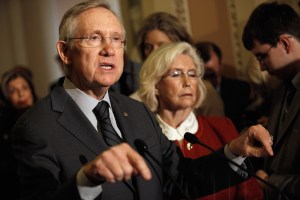 In a press availability with reporters this afternoon Senate Majority Leader Harry Reid shot down a reporter's question using some rather colorful language.
"I don't want to answer that question. That's a clown question bro," Mr. Reid said eliciting laughs.
Partial audio of the exchange was posted online by The Takeaway's Washington Correspondent Todd Zwillich. Mr. Zwillich said his recorder was too far away to pick up the question, so he only posted Mr. Reid's answer.
Mr. Reid's comment was a reference to Washington Nationals rookie outfielder Bryce Harper who gave the same response last week when a reporter asked him whether he'd celebrate a homerun with a beer.
According to USA Today, Mr. Reid's unusual response was a provoked by a reporter asking him to respond to "Senate Minority Leader Mitch McConnell's comments on the DREAM Act."
As of this writing, Mr. Reid has not responded to a request for comment on this story.