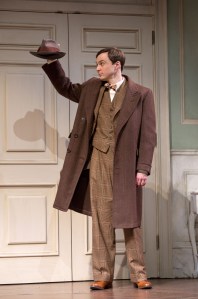 Harvey is the one about the amiable 39-year-old dipsomaniac Elwood P. Dowd and his best friend and constant companion Harvey, a white rabbit, standing tall at six feet three and a half inches, who, to the mortification of his family, is invisible to everyone but Elwood—or almost. The play by Mary Chase was a big hit in 1944 (inexplicably, it won an undeserved Pulitzer Prize) starring Frank Fay (Barbara Stanwyck's first husband) and the fabulously ditzy character actress Josephine Hull, who recreated her role in the critically acclaimed 1950 film, sharing the screen with a triumphant performance by James Stewart, whose wife, Gloria, said at the time, "You stay at the studio—send Harvey home to me."
In the genial Roundabout translation currently on view at Studio 54, the eccentric Elwood is essayed by the stage play's star, Jim Parsons, he of the curiously abortive and alarmingly overrated five-years-and-still-running television sitcom, The Big Bang Theory. He is no Jimmy Stewart, but he has a wiry charm air-brushed with a dusty Texas twang that is perfectly suited to a borderline mental patient with impeccable old-world manners. If you're up for some warm and gentle whimsy in a charmingly fanciful farce peppered with a tiny touch of pathos, Mr. Parsons gives a droll performance and the play is a nice dose of tonic. The thin-as-parchment plot revolves around the wackiness that ensues when the boozer's distraught sister, Veta, and uptight niece, Myrtle Mae, reduced to desperation by their unenviable position in the community as relatives of "the biggest screwball in town," try to slap Elwood into the loony bin. They want to hide this family embarrassment, but Elwood owns the house, so in a sense they are strangely beholden to him. Commitment papers are the answer, but complications arise when he is mistakenly released, the addled Veda gets locked up in his place, and the senior psychiatrist of the sanitarium starts downing cocktails, playing the jukebox and seeing Harvey himself.
The major charm of this affectionate albeit dated conceit is its nonjudgmental view of an endearing lush—Mr. Parsons has a slight trace of imbecility at first, but he is such a sweet, harmless, good-natured innocent that he grows on you. Mr. Parsons is a pleasant, open-faced actor—no planes in his face, no shadows on his brow, just open spaces like a baby. The rotund, terminally baffled Josephine Hull is sorely missed. Jessica Hecht can't begin to equal her comic brilliance (nobody could), and her writhing and scissoring her legs like an oversexed octopus borders on hysteria. She fusses and flutters like Josephine Hull, but her Veda seems dafter than Mr. Parsons' Elwood. Tasty contributions by Carol Kane, Charles Kimbrough and Larry Bryggman add to the farce, and David Rockwell's old-fashioned Victorian house, replete with carpeted stairs, framed wall cameos, crown moldings and leather Chesterfield chairs, gives them a colorful backdrop to prance around in. I still wish I could find the deeper significance in Harvey or figure out what an invisible white rabbit represents metaphorically, but to his credit Scott Ellis keeps the whimsy in check, and a good time is had by all.
rreed@observer.com