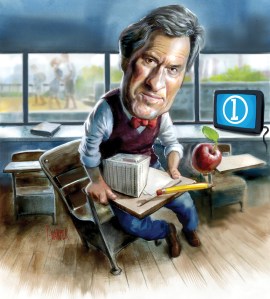 One evening in late March, the entrepreneur H. Christopher Whittle found himself in a large conference room in Renda Fuzhong, an elite Chinese academy in Beijing's Haidian district, rattling off his pitch for Avenues, the bilingual for-profit New York preparatory school set to open in September in a former warehouse building on 10th Avenue in Chelsea.
Listening intently to the presentation were 20 Renda ninth-graders who were already committed to Avenues in the fall and about 100 parents and grandparents. Mr. Whittle explained that a decade hence, Avenues: the World School would comprise an international network of 20 academies, serving K through 12, spanning the globe from Doha to Moscow, and Mexico City to Johannesburg. Every student in the network will have an "automatic transfer right" to any other school—whether to expand his or her own educational horizons or due to the globe-trotting habits of their parents. (In that sense, it's a little like a pedagogic timeshare, offering an array of comfortable home bases to the next generation of rootless cosmopolitans.) He talked about the intense competition for Ivy League spots, and how it would only get worse. And he talked about the spectacular new facility taking shape beside the High Line.
Mr. Whittle had made precisely the same presentation more than 100 times in the last year to audiences of mostly affluent New York parents at the Core Club, the Harvard Club and Avenues' startup-chic 17th-floor corporate office overlooking Madison Square Park. This was his first time doing it in Beijing, where the second of Avenues' 20 branches is expected to open, provided the delicate negotiations with the People's Republic remain on track.
When he finished the spiel, Mr. Whittle opened the floor to questions, and a student rose to her feet. Like her classmates, she was dressed in a white and red track suit, the Renda uniform.
"I watch Gossip Girl," she said, prompting some titters. "Are New York City schools like that, and if so, is that a good place for us to be?"
Mr. Whittle, whose daughters both attended Nightingale-Bamford, alma mater of Gossip Girl author Cecily von Ziegesar, was not unfamiliar with the CW series. "Gossip Girl is terrific entertainment," he allowed in his gentle Tennessee drawl. "But let's just say it's a little overblown. That's not our day-to-day reality."
At least, not yet. After all, at the time of the Beijing presentation, the Chelsea school building was still in the midst of its $60 million renovation, with 300 hard-hats working in two daily shifts to convert the former ABC/Disney prop storage facility into a 10-story, state-of-the-art schoolhouse. A row of porta-potties were wedged like packaged hot dogs into what would soon be the lobby; a crew was pouring a cement underlayment in the 10th-floor gym, and an on-site construction management office had been set up in what was slated to become the music room.
[View the slideshow: The Road to Avenues]
But while Mr. Whittle is certainly no Serena van der Woodsen, it's fair to say he has encountered his share of drama over the years, had enough flutes of Krug splashed in his face—figuratively, that is—to fill out a full season of the sordid prep school melodrama. While he has often been hailed as a visionary, he has also been branded a huckster and a charlatan. Vanity Fair once wondered, on its cover, if he were "the devil." And that's nothing compared to what the trolls (or perhaps one very unhinged individual) are saying on the pitiless boards of UrbanBaby.com.
A charismatic, genial man of 64 with an unflappable air, Mr. Whittle is considerably more mild-mannered and disarming in person than his history might indicate. But beneath the folksy bow ties and cardigan sweaters lies the heart of a recidivist troublemaker with a habit of poking pointy sticks into institutional hornet's nests.
Mr. Whittle's first company, 13–30, which he launched with his friend Phil Moffitt shortly after college, pulled an audacious end-run around Madison Avenue and the publishing industry by creating a series of highly targeted, advertiser-friendly marketing vehicles distributed to beauty salons, auto mechanics' waiting rooms and the like. One of the most lucrative, a magazine for doctors' offices, came with a "handsome oak cabinet"—but only if subscribers agreed to forsake most other reading material.
The boldest of these schemes was Channel One, the teen news network, which beamed 10 minutes of current-events coverage (including regular dispatches from Anderson Cooper and Lisa Ling) and two minutes of Pringles, Clearasil and military recruitment ads per day to a captive audience of public school students, buying off school administrators with free AV equipment.
Pundits and pedagogues recoiled, denouncing the company for force-feeding advertising to children, who were required by law to watch it, but within a few years the broadcasts reached 8 million teenagers in 40 percent of the nation's schools, and 30-second spots were going for $200,000. (Channel One was purchased by K-III for $300 million, but the business soon began to tank. It was sold to Alloy Entertainment—publisher of, yes, Gossip Girl—for a reported $10 million in 2007.)
In 1979, 13–30 purchased the beleaguered Esquire, and pledged to turn it around. Editor Clay Felker was tossed overboard, and Mr. Moffitt took over the editor's job himself. Unsurprisingly, New York's literary establishment bewailed the takeover of one of the nation's most venerable titles by Knoxville philistines. But within a few years, the partners' strategy (more lifestyle content, endless special issues) succeeded in turning the business around. The partners eventually had a public falling out and divided the company, with Mr. Whittle taking 13–30 and Mr. Moffitt keeping Esquire, which he later sold to Hearst. (Mr. Moffitt is now a mediation guru.)
Mr. Whittle raised eyebrows again in 1989, when—having renamed his company Whittle Communications and selling a 50 percent stake to Time Inc. for $185 million—he broke ground on a baronial $50 million neo-Georgian corporate campus, soon to receive the nickname "Historic Whittlesburg." Occupying two razed blocks in the middle of downtown Knoxville, the headquarters was designed by leather-man starchitect Peter Marino, who also worked on numerous Whittle residences.
Just a few years later, Whittle Communications suffered a spectacular collapse, a saga chronicled in James B. Stewart's New Yorker profile "Grand Illusion," which uncovered problems with the company's accounting (it hadn't paid state taxes on Channel One's VCRs and TVs) and described Mr. Whittle as grandiose, profligate and self-deluded.
The company's assets were split up and liquidated, and its headquarters put on the market. It now serves as a splendid federal courthouse. (Lesson learned: At Avenues' corporate offices, Mr. Whittle occupies a cubicle.)
Mr. Whittle's involvement in education began when Whittle Communications was still a going concern, with his 1991 announcement of the Edison Project. The initial idea was to create a network of 1,000 newly built private schools within a decade—the largest business startup in history, Mr. Whittle called it—but as the privatization drive picked up steam, he saw an opening in simply managing existing public schools for local governments.
That turned out to be harder than he thought.
It's a measure of Mr. Whittle's white-knuckle thrill ride of a career that his biography, An Empire Undone: The Wild Rise and Hard Fall of Chris Whittle, by Vance Trimble, came out back in 1995, a good six years before Edison's bulb blew out. The company never posted a profit and, despite some success at raising achievement, there were notable failures. Union opposition was fierce. Numerous school systems fired the company. The SEC launched an investigation into its accounting practices, and investors fled. The company's stock, which reached $36 a share in 2001, plummeted 95 percent in 2002, prompting a management buyout. (The fact that the buyback was financed by Liberty Partners, a firm then dedicated to investing Florida's public employee pension fund, prompted another ferocious controversy.)
The company, now called Edison Learning, offers "turnaround services" and "solutions" but manages only a few schools on an ongoing basis.