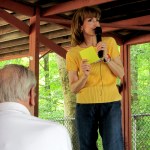 Earlier today, Bruce Harvie, campaign manager for Nan Hayworth spoke publicly about campaign spokesman Jay Townsend's comments on a Facebook page in which he suggested "hurling acid" at female Democratic senators.
And in his statement Mr. Harvie blamed the campaign of Richard Becker, one of a handful of Democrats vying to compete against Ms. Hayworth in November.
"This is a manufactured controversy by a campaign operation that has, for months, hurled offensive rhetoric and imagery at Nan Hayworth on various Facebook pages, including the one mentioned today. It is a matter of public record that the moderator of the page in question, while purporting to represent an objective point of view, is on the payroll of the Becker campaign. And in behalf of the Becker campaign, the moderator has tolerated extremely hostile and explicit comments against Dr. Hayworth. Only now have the media chosen to pay attention to this particular battlefield in the war against a woman who has the temerity to be a Republican Member of Congress."

"The comment receiving the attention was not made on behalf of the Congresswoman or her campaign and was clearly not meant to be taken literally. Meanwhile, this morning's dismal employment report proves yet again that the Becker campaign is doing all it can to distract attention from the real issues that mean everything to the future of our Hudson Valley. Today's anemic job figures and rising unemployment rate are stark evidence that their candidate represents a thoroughly discredited set of policies that have caused families here and around the country to suffer needlessly in an economy that can only be revived by doing what Nan Hayworth is working for every day: respecting our hardworking taxpayers, restraining the federal government, restoring long-term soundness to Social Security and Medicare, and repealing and replacing the massive and costly federal takeover of our health care."

"It's not too much to insist that the media responsibly analyze context and perspective rather than simply broadcast hysterical and irresponsible attacks from a campaign that is purely seeking to score political points against a Representative who has a consistently strong and positive record as an advocate for every citizen she serves."
The incidents seems to have diminished enthusiasm for Ms. Hayworth among some quarters where she needs it most, particularly in the righty blogosphere.
In a blog post entitled "Today Is The Day Nan Hayworth Lost NY-19 For Us", the blog Red State wrote:
On top of a disappointing track record of voting with the leaders to continue spending money no one will ever have, today was a double-plus-ungood day for Nan Hayworth. On the same day she voted against PRENDA and thus for the "right" to kill unborn children who have the temerity to be the wrong gender, her spokesman, Jay Townsend, apparently has had a comment he made blown sky high, unleashing a firestorm of Progressive outrage. Whatever the context of his comment, it's going to be difficult to defend his suggestion that we "hurl acid at those female Democratic Senators."

If she was trying to fly under the radar and cruise to re-election, she can forget about that now. As I wrote on her Facebook page, I'd rather NY-19 was held by a D, that way I wouldn't feel betrayed. She rode the Tea Party wave to election in 2010, but she's just another New York RINO. I will not miss her.
And, naturally, Ms. Hayworth's opponents quickly pounced.
Mr. Becker, who has been driving this issue for the last 36 hours, said in a statement:
"This is a very simple issue: It is emphatically not ok for a Congressional spokesman to say we should "hurl some acid at those female democratic senators" his boss disagrees with. That kind of unprofessional and hateful language should never be used by our political representatives and is unworthy of our great state and the Hudson Valley. Period. It's unfortunate that Nan Hayworth apparently disagrees."

"Hayworth's non-sequitur response is a blatant and pathetic attempt to try and deflect a story that has rightly incited cries of outrage from every corner of this country. There's a reason that even a conservative bastion like RedState.com would, in a post headlined 'Today is the day Nan Hayworth lost NY-19 for us,' say 'it's going to be difficult to defend [Townsend's] suggestion.' There's a reason that a non-partisan media trainer commented simply that this was 'a fireable offense.' There's a reason so many people were disgusted by such a flippant reference to a barbaric practice that is almost exclusively used to silence courageous women."

"This is offensive language, pure and simple, and Nan Hayworth should condemn it and fire her spokesman for using it. That she's defending him instead is extremely depressing and absolutely unbelievable."
Later, Mr. Becker send out a fundraising email on the matter headlined "Let's hurl some acid at those female democratic senators."
You probably thought you read the subject line incorrectly – but no – it's correct. Nan Hayworth's spokesperson crossed the line and actually called on people to "hurl some acid at those female Democratic Senators." To make matters worse, "No Comment" Nan is doing what she always does in these situations: absolutely nothing. In fact, she's even defending the indefensible and standing by the spokesperson.

My campaign has been cited in the press for months calling out Hayworth over her and her campaign's extreme, hypocritical comments and behavior.

Hayworth's spokesperson, and Hayworth's inaction, crosses a line, and people are responding. Acid attacks on women are used almost exclusively to silence and punish women across the globe who've bravely spoken out on behalf of their human rights. That's why the Huffington Post article has generated over 4,000 comments in a day. Rhetoric like this has no place in our political discourse, and it is time we do something about it.

If you're outraged as I am, contribute $20 today to help defeat "No Comment" Nan Hayworth.

If you've been sitting this election out, if you've been waiting for a reason to get involved, if you've been sitting on the fence for any reason – here is your call to action. Nan Hayworth has done nothing to punish this person who works for her, in fact, she's defended him. She must be defeated in November. We cannot afford to lose this election – it is too important.

And so, I'm asking for help. We're 25 days away from a primary that could very well determine the outcome of the November election. For all of the terrible things she's done, Hayworth can still win this if we pick the wrong candidate. We need someone who will stand up and fight for the Hudson Valley – like I have; someone who knows this community and who has lived here for over 30 years – like I have; and someone who will go toe-to-toe with Hayworth as a doctor, small business owner, and community activist – like I will.

Make sure Nan Hayworth is a one-term Congressperson. Contribute $20 to our campaign today.

Thank you for your support,

-Dr. Richard Becker