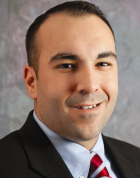 Russell Gallo, the President of the Brooklyn Young Republicans, is planning to run against Democratic Assemblyman Steve Cymbrowitz, setting the stage for what will likely be one of the few competitive assembly battles in New York City this November.
Reached for comment, Mr. Gallo said that he's "not making any public statements until we get closer to the end of petitioning," however, according to multiple sources familiar with his efforts, he fully intends to run.
Mr. Gallo, a district leader in a neighboring assembly district, saw his house move into Mr. Cymbrowitz's seat in redistricting. But that might not be such a bad thing as his new district, containing many Orthodox and Russian Jewish voters, is at the epicenter of Republican resurgence in the city. Indeed, both State Senator David Storobin and Congressman Bob Turner performed very well there in their upset special election victories in 2012 and 2011 respectively.
The head of the  Brooklyn Young Republicans is well known in the borough's political circles. His organization, officially backed by the Kings County Republican Party, had a high profile feud with a rival young Republican club, and he is an outspoken co-host on Brooklyn GOP Radio.
Mr. Cymbrowitz also has a strong primary challenger in the form of Ben Akselrod. Some observers have speculated that Mr. Akselrod, who speaks Russian and has ties to Jewish organizations, would present a more formidable candidate to hold the seat in the general election, but knocking off an incumbent in a primary is never an easy task.