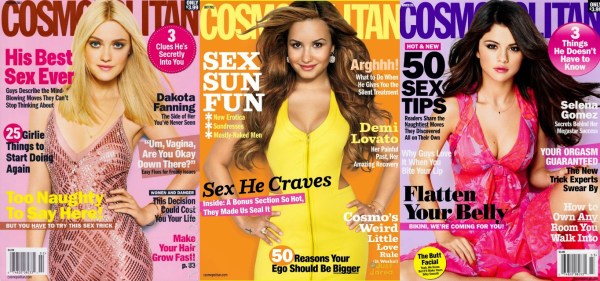 An online petition asking Hearst Magazines to cover up Cosmopolitan's racy cover lines got a surprising new spokeswoman last week: Victoria Hearst, the daughter of former Hearst Corp. chairman Randolph A. Hearst and younger sister of Patty and Anne.
Reached at home in Colorado, Ms. Hearst told Off the Record that the company should "have a moral compass and put it in an opaque bag and make it sold only to adults."
It's a proposition that's unlikely to go over well with her relatives on the corporation's board. Cosmo's cover lines, though comically blunt ("Your Orgasm Guaranteed," "Um, Vagina, Are You Okay Down There?"), help make it the best selling consumer magazine on American newsstands. But Ms. Hearst is accustomed to being a black sheep.
While her cousins and nieces appear on magazine mastheads and in society columns, Ms. Hearst used her inheritance to buy a 10,000 sq. foot barn in Ridgway, Colo., where she founded Praise Him Ministries in 2001.
A born again Christian since getting out of a bad relationship in the '90s, Ms. Hearst felt a sense of familiarity when she saw the campaign's leader—model and aspiring actress Nicole Weider—interviewed by Pat Robertson on the Christian Broadcasting Network.
"I felt like the Lord was telling me I needed to talk to the company," she recalled.
Ms. Hearst, 55, remembers when her family brought in Helen Gurley Brown to resuscitate the failing magazine in 1965. "You remember Helen," she said, "sexual revolution, feminism, blah blah blah." In high school, Ms. Hearst was an occasional Cosmo girl.
"I didn't read it religiously," she told Off the Record. "I looked at it. I didn't think there was anything wrong with it.
It wasn't until eleven years ago that she noticed the magazine's trademark mix of sex tips, confessions, and stories—what she called "the disgusting stuff"—and waged her own war on Cosmo from within the Hearst clan.
Although not a trustee herself, she sent each member of the corporate board a dossier containing opinions on selected Cosmo articles written by two psychiatrists, "one Christian and one non-Christian," as well as her own opinion, which was "Bible-based."
She never heard back from the company—"I had apparently been branded a Christian fanatic," she said—but she had the opportunity to confront some board members three months later, at a family reunion at the Hearst-owned, Northern California estate, Wyntoon. Ms. Hearst said that one cousin told her she agreed with her but was too afraid to speak up, while another told her that he wouldn't mind if his tween daughter read Cosmo because he wanted her to have a good sex life.
"I understood that he didn't know the Lord," Ms. Hearst said.
A telephone call to Hearst CEO Frank Bennack was not much more effective, she told Off The Record, because the two disagreed over the definition of pornography.
"We had a heated discussion," Ms. Hearst said, "He said, 'You're making this out like it's black and white,' and I said ' No, Frank, it's green.'"
By today's standards, few would say Cosmo is pornographic. Ms. Gurley Brown's hunky centerfolds once drew comparisons to Playboy, but under Kate White the cheesy soft-core visual offerings have all-but disappeared (give or take the stray bare ass). The most scandalous finding in July's "Guide to his Package"—which the cover boasts is "so hot they made us seal it"—is the essay "Why I Love My Penis," by Esquire writer Chris Jones.
But one could argue that Ms. Gurley Brown's please-your-man empowerment—which still reigns in the magazine's current iteration—has worked out better for Hearst's bottom line than womankind. Cosmo has grown synonymous with advertiser-friendly, consumptive girl power, enabling Hearst to license more than 60 international editions and become the best-selling magazine in the world. Meanwhile, Cosmo dispenses with advice for what to do when that "steamy hook-up" "ghosts" on you.
Cosmopolitan declined to comment to Off the Record beyond a written statement: "As a magazine written by women for women, Cosmo believes in the first amendment right to freely publish and display the magazine."
They have yet to respond to Ms. Weider, so this summer she plans to fly a couple dozen of the petition's 33,000 undersigned to New York, where they will protest outside the magazine's 8th Avenue headquarters.
"We're going to embarrass them by putting dirty sex tips from the magazine on our signs," she  told Off the Record.
In the meantime, she's been pursuing alternative avenues for change, like writing letters to her Senator and the Federal Trade Commission.
"That's the only way you're going to get the Hearst Corporation to change," Ms. Hearst said.
Ms. Weider sent a letter to FTC Secretary Jon Leibowitz along with issues of the magazine in which she'd flagged references to anal sex. Other major areas of concern include sexting, casual hookups, threesomes and an article that included URLs to female-friendly pornography.
"How is this even legal?" she asked. "If it's an adult magazine just sell it to adults."
In this day and age, the notion of protecting young people from sexual knowledge seems naïve (you can't put an opaque plastic bag over the Internet), but Ms. Weider and Ms. Hearst's discomfort does reflect something true about Cosmopolitan's content. Its knowing and adult tone only makes it more alluring to the young and ignorant.
The magazine's cover girls would seem to confirm as much. In the past six months alone, they have included Dakota Fanning, Selena Gomez and Demi Lovato. They're all 18 or older, but their fan bases are much younger.
In fact, Ms. Weider's campaign began when she saw a group of thirteen- or fourteen-year olds-whispering over an issue of Cosmo featuring Twilight actress Ashley Greene on display at CVS . When she picked up the magazine, she was shocked by what she saw. Although she read the magazine (and hid them from her mother) as a young teenager, she said it was a more innocent time, when Mandy Moore was on the cover and the sex tips involved scrunchies.
"It seriously talked about all these freaky sex positions I've never even heard of," she said of the recent issue.
Around the same time, Ms. Weider, who found God after a self-esteem-crushing period of partying and promiscuity in Hollywood, launched Project Inspired, a Christian blog for girls.
"I wanted to use my experience in Hollywood to influence and impact girls to do the opposite," she said.
For its part, Cosmo insists it does not market to underage readers.
"Our readers are 18-34 years old, and we have never targeted readers younger than that," a spokeswoman for the magazine told Off the Record.  Indeed, Cosmo's media kit for prospective advertisers only discusses the magazine's 12.9 million readers between the ages of eighteen and 49. But with 15.4 million readers total, that leaves another 2.5 million readers who are either school-aged or menopausal.
Even if all 2.5 million of them are under age and impressionable, the good news is that it a tween-age Cosmo habit hasn't been proven fatal. Ms. Weider and Ms. Hearst were young readers, after all.