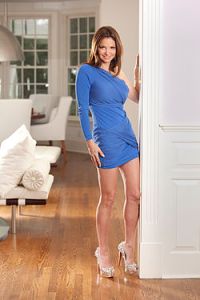 If it weren't for one or two things, Daniel Shak wouldn't be such a well known guy. His hedge fund, SHK Asset Management, wasn't what you'd call a major player. But by investing the $10 million fund in gold futures, then liquidating the position, Mr. Shak set off the largest single day drop in gold contracts traded on the Comex.
Some months later, Mr. Shak stumbled upon some hard to find info about his ex-wife, the professional poker player Beth Shak, that has renewed the hedge fund manager's fame. According to the New York Post:
"In the summer of 2011, Daniel became aware that Beth owned and failed to disclose an extensive . . . collection of Christian Louboutin shoes . . . and other high-end designer shoes and bags," his suit says.
A few questions:
What exactly do you mean by extensive? Ms. Shak owns more than 1,200 pairs of designer shoes, according to a series of news reports, including 700 pairs by Christian Louboutin.

How did Mr. Shak miss a shoe collection of that size? "Dan trusted his wife and was not inspecting his home to try to find inventory or 'secret rooms," according to a lawsuit filed by Mr. Shak.

So how did Mr. Shak find out? Well, it could have been the
Huffington Post video
from July titled "Beth Shak Owns 1,200 pairs of shoes." Or maybe a re-run of this 2009 episode of
Teen Cribs
, in which Ms. Shak's daughter brags over mom's shoe collection. Or this Page Six item describing Ms. Shak's plans to tattoo a Louboutin stiletto on her
"groin area."
What does he want now?Thirty-five percent, apparently, so like 400 pair? Or a chunk of the $1 million the collection is said to be worth?
Ms. Shak, for her part, is incredulous. "I'm shaking my head over this whole thing," she told the Post. "He is saying he didn't know the closet in our master bedroom existed."