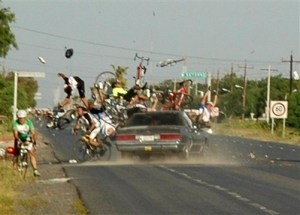 When people tend to complain about bikes, it is in terms of law-breaking dare devils. Whether or not this is accurate, at the very least, the pedestrians who so often feel threatened by these two-wheeled madcaps need not look over their shoulders fearing for their lives.
Well, that might still be a good idea, especially with an 18-wheeler barreling down behind the bike, but the odds that a cyclist might actually kill, or even maim you are incredibly slim, according to new city data.
Last year, the City Council passed Local Law 13, requiring the Police Department to track all bicycle accidents. Some critics of the legislation argued this was simply a tactic to demonize cyclists, a not uncommon practice at the Council. One of the advocates of the law was Nancy Guskin, whose husband was struck and killed by a delivery cyclist headed the wrong way down  Midtown street. "The main problem is that there aren't accurate statistics now, so we don't know" if the street-level policies are work, she told Gothamist two years ago.
But now that the data is out, it is clear how unmenacing cyclists actually are. Streetsblog crunched the numbers:
According to reports collected by NYPD and compiled online by NYC DOT [PDF], police responded to 27 bike-ped collisions citywide in the last three months of 2011, resulting in 26 injuries.

Over the same timeframe, 754 car-bike collisions injured 755 cyclists and killed three. Ten motor vehicle occupants were injured in those crashes.

[…]

Based on the most recent data available from the state DMV [PDF], more than 2,600 New York pedestrians are injured by motorists in a typical three-month period, and 50 are killed. In addition, about 15,000 motor vehicle occupants are injured in traffic crashes. (Raw numbers compiled by NYPD [PDF] show somewhat higher rates in April 2012.)

We'll have to get a full year's worth of bike data to make an apple-to-apples comparison. But with these preliminary numbers, looking just at the risk to pedestrians, it seems motorists are causing about a hundred times more injuries than cyclists. These raw numbers don't account for the severity of injuries, which is almost certainly a great deal worse for crashes involving multi-ton vehicles capable of high speeds than for crashes involving lighter and slower bikes. The lack of pedestrian fatalities caused by cyclists gives some sense of the severity gap between car crashes and bike crashes.
At the same time, 30 percent of commuters drive or ride in vehicles (including taxis), compared to less than 1 percent who bike to work every day, so an apples-to-apples comparison is still far off. If anything, though, more bikes make the streets safer, as traffic fatalities across the board have fallen at the same time ridership has risen, so the more people on the street, the busier it may be, but also the safer. People will indeed remember to look over their shoulders.