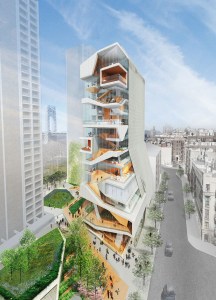 This gives a whole new meaning to "in the heights."
Columbia University Medical Center has just announced that Diller Scofidio + Renfro will be designing a new 14-story medical building on Haven Avenue between 171st and 172nd streets that will be home to high-tech class facilities for all four CUMC colleges as well as the biomedical program within Columbia University's college of art and science.
The university tapped DS+R, along with Gensler, to create a new landmark for the medical center, one that will be visible from both the George Washington Bridge and Riverside Park."The new building will have the best possible design that is attractive, comfortable, and appropriate for the intense kind of education that our students receive," Dr. P. Roy Vagelos, a 1954 graduate of the school and former CEO of Merck, said in a release.
This is DS+R's latest project in the city, following on the huge successes of the High Line and Lincoln Center, as well as their early interior for Brasserie. It will also be the first vertical project for the firm, which tends to focus on cultural and institutional work, like museums and performance centers. This is not their first project for Columbia, however—the firm is also designing a new business school building named at Henry Kravis at the university's new Manhattanville campus.
"The new Medical and Graduate Education Building will be the social and academic anchor of the CUMC campus," Elizabeth Diller said. "Spaces for education and socializing are intertwined to encourage new forms of collaborative learning among students and faculty.
This can be seen in the signature design feature, an exposed glass stack on the southern side of the building the designers call "the study cascade." Like the rest of Columbia's new buildings—many of which employ top designers in the field, like Steven Holl's nearby athletic center in Inwoof—the project will be sustainable, aiming for LEED Gold status. It is set to begin construction in 2013