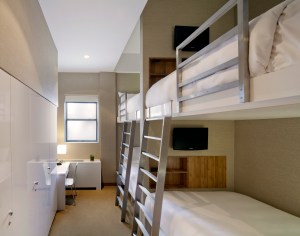 "I had the idea six years ago," said Ian Reisner, co-owner of the West Side's Out Hotel, which opened in March. "I thought it was a shame. I was out here 25 years ago, and we lost fun clubs like the Roxy, Limelight, Private Eye, the Bank…" He then described a European trip, during which he'd seen establishments describing themselves as "hetero-friendly"—gay-oriented, but not exclusive, flipping the traditional inclusiveness of straight-run right-mindedness on its head.
"But when I think about New York, everything's bigger and better."
The Out Hotel is, for its function—a boutique hotel—bigger and better than most. The white-walled, curving enteranceway leads, like the hallways of the Guggenheim or like some bodily orifice, towards an elevator bank and towards the first set of rooms. It was in the first-floor "sleep share" rooms where we were to stay, last month, on our mission to get to the heart of exactly in what gay travelers to New York might find at a gay-themed hotel.
"The concept was eighty-twenty," said Mr. Reisner to us after we'd stayed there. "Traditionally, hotels were owned and operated by straight people, built with straight capital, for the majority, and the minority was welcome. We were built by gay capital, we're gay-oriented—but we are straight-friendly."
The "sleep share" room that we had booked for an economical $99 on a quotidian Thursday night featured two sets of bunk beds, as well as four lockers and four little above-bed TVs. We checked in, stashing our watch in the locker, and waited for the first guest to arrive.
"We have New York modeling agencies taking whole rooms for three months!," Mr. Reisner had told us. "It's four girls in a predominantly gay hotel—they're very safe."
The only other guest in our sleep share was a business traveler from Miami, who informed us he was in the "taxi-TV business" only after taking a thirty-minute business call in the room. After the call, he chose to relax with a portable DVD player, on which he watched the now-defunct ABC sci-fi series FlashForward. We dropped in on the club XL, which took some time to heat up; the crowd was divided in large part between young men lured by relatively inexpensive drink specials, and older gents lured by young men. Everyone had a group of friends with them and there was little mixing. There were no women in sight, unlike clubs further south that tend to draw at least one group of bachelorette-partying looky-loos.
A good-looking employee with an iPad enticed us to give our information so that we could join the hotel's rewards program. The club's bathroom was a black-tiled temple of urinals. The grungy, real Limelight this was not.
"The comfortability of you, if you were my partner, going into a space like a restaurant; you would not feel comfortable, 100%, still," said David Lopez, the hotel's general manager, who noted that the hotel's clientele has morphed since its opening from cosmopolitan Europeans to Midwesterners and patrons from Quebec and Ontario. "One partner may want to hold the other partner's hand, but the other one may say 'you don't know about this place.'" But given the level of tolerance throughout New York in 2012, gay rights have advanced to the point that the Out Hotel is possible, but it may not be necessary.
Little matter to the crowd dancing at XL or to my roommate, who, contra Mr. Lopez's suggestion that the sleep shares "layered in something more youthful," simply wanted a cheap spot to crash. We went to bed around two, earning a derisive snort from my long-since-asleep roommate. Lying in our bunk, listening to snores, The Transom flipped through a magazine, wondering how many episodes of FlashForward this guy had watched: it was the most intimate experience we'd ever had with a stranger.