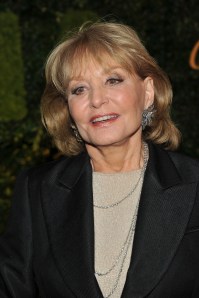 Barbara Walters has had a tough week: her letter of support to Columbia on behalf of a young female aide to Syrian despot Bashar el-Assad after interviewing him for ABC has been all over the dailies. You wouldn't know it, though, from watching her daily appearances on her daily chat show, The View. Last Wednesday, the day the Post ran the story of Ms. Walters's intervention on behalf of Sheherazad Jaafari, Ms. Walters opened the show by discussing the Diamond Jubilee. She read aloud Cindy Adams's Post column on the Queen's fashion sense, noting that the Post "is always so kind to me–private joke." Co-host Elisabeth Hasselbeck noted that her son had seen Ms. Walters in the paper that morning, to which Ms. Walters did not react favorably.
Speaking about the entrenched system of power in the U.K., Ms. Walters remarked, "I'm a royalist." Later in that episode, Joy Behar made a joke about her appearance, to which the women did not titter as vociferously as usual. "Why is this day more weird than all the others?," Ms. Behar asked.
Thursday's episode left the news behind with an opening segment about Ms. Walters's old modeling pictures. "You all know Barbara Walters as a distinguished journalist," co-host Whoopi Goldberg said before showcasing the journalist's softer side.
On yesterday's show, the women discussed the hard work high school students must undertake to get into a good college. Ms. Walters was largely silent. But on the topic of Madonna's recent breast-baring at a concert, she jumped in. "The press loves a feud. They say she's too old! But she's still a great performer."