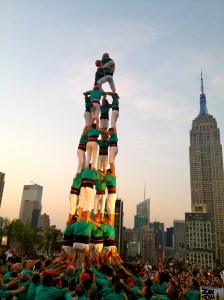 The stale air weighed down heavily on a hushed crowd that stared onwards at a mess of tangled bodies 20 stories and counting above the streets of Manhattan. Silhouetted by a brazen sun, the new fixture leaned precariously against the Manhattan skyline. We, the audience, were in an uncomfortably similar state, packed so tightly that it was not uncommon to feel a stranger's breath at the nape of your neck—not the ideal situation for an outdoor gathering on the first day of summer, and a scorcher at that.
The crowd held its breath, holding sweaty drinks beneath burnished brow. Why were we braving the excruciating heat of a crowded rooftop? To witness the Castellers de Villafranca del Pendès's attempted construction of New York's first-ever castell, or human tower.
600 arms and legs twisted and turned their way into an eight-tier addition to the rooftop deck (on the 20th floor), a deck reinforced with steel beams and two layers of plywood to support the weight of the performance. The team's performance, high atop 230 Fifth, was a way to introduce New York to the Catalonian region of Spain's 300 year-old tradition.
"The performance originally started as a musical performance at a religious festival," Ram Devineni, a producer and director of a documentary about the team called The Human Tower, told The Observer. "A bunch of people started to get together and jump on each other's shoulders, and after a certain amount of time the towers just got higher and higher. They really loved what they were doing so they decided to change it from a music festival to sort of a tower festival."
Mr. Devineni said his idea to create a documentary about human-tower building came about after coming across the human towers on YouTube.
"We filmed this team traveling all over the world, building towers and spreading the gospel and the philosophy of tower building," Mr. Devineni said.
Mr. Devineni said the documentary has been released around the world and there will be a private screening of the documentary on Friday, June 22 at Goldcrest Studios in the West Village. The goal of those involved in the documentary is to get the film broadcasted on television in the near future. Having been deemed a Masterpiece of the Oral and Intangible Heritage of Humanity by UNESCO, we figure these soaring Spaniards might have something here.
The team will continue to hold performances in New York until June 24 at venues throughout the city, including two performances at Central Park and Battery Park on June 21 for the Make Music NY Festival.