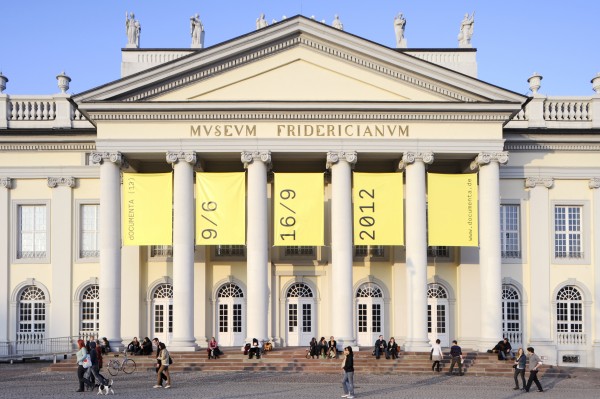 If you were wondering whether or not Carolyn Christov-Bakargiev, curator of the 13th edition of the quinquennial art exhibition Documenta, is ambitious, here is all you need to know: she wanted to bring the world's second-largest meteorite, a 37-ton rock called El Chaco, from Argentina to Kassel, Germany, and park it in front of the Fridericianum, Documenta's main venue. The project was proposed by the artists Guillermo Faivovich and Nicolas Goldberg. Ms. Christov-Bakargiev wasn't able to do this—it wasn't a budget thing, she ran into opposition from members of the Moqoit people of northern Argentina—but she takes care, in her catalog essay to inform you that, had she been able to, "it probably would have been the heaviest single object to have ever in history been transported by humans." As a curator, she's into heavy lifting. There are 166 artists in her Documenta, and their artworks are spread over 32 venues throughout the city of Kassel. I tried to see all of them in five hours.
The incentives to taking a day trip from Basel, Switzerland, to Kassel at 6:08 a.m. in the morning were, admittedly, few. In Newsweek, Blake Gopnik described Documenta as "the Olympics of the art world." Great, but not at 6:08 a.m. Then there was Ms. Chistov-Bakargiev herself, who, sounding uncannily similar to a list of symptoms in a television ad for an antidepressant, declared in her essay that her show is "intentionally uncomfortable, incomplete, nervously lacking." An intentionally uncomfortable, incomplete, nervously lacking Olympics: the whole thing sounded, dismayingly, like a Saturday Night Live skit.
What does one do on the four-and-a-half-hour train ride to Kassel? Look at the Documenta 13 iPhone app, of course! Because it has videos. I cued up Bangkok-born artist Apichatpong Weerasethakul talking about his project in the Karlsaue Park. "I'm thinking to do an invisible cinema to communicate with nature. It's not for humans, it's for animals and for the air." Hm. Since it wasn't for me anyhow, maybe I could skip it, save some time. Ryan Gander told me that one of his artworks was invisible (what is it with invisible art these days?) and another "you can't find." Good to know! The conductor had to ask for my ticket twice because I was deep into Joasia Krysa on the "aesthetics of failure." As the train pulled into Baden-Baden, 66-year-old Egyptian-born artist Anna Boghiguian was telling me her work is about "the way cities affect the brain."
In her essay, Ms. Christov-Bakargiev informed me that, to visit the rotunda of the Fridericianum, as she has curated it, is to enter a brain. And you thought entering brains was only for neurosurgeons and Hannibal Lecter! Not anymore. Documenta the brain is, Ms. Christov-Bakargiev writes, a "puzzle," a "riddle," an "embodied non-concept." "The many threads of Documenta 13 … are held together precariously in this brain." She promised me Bactrian princesses the size of my iPhone from the second millennium B.C., with heads of white limestone and lapis lazuli; let it be said that this woman knows how to sell.
And three hours later, after running into Tony Karman, director of the Expo Chicago fair, and Chicago dealer Rhona Hoffman in the Kassel train station, there I was, in the brain, with the princesses. There was a bit of a line, because only 50 people are allowed in the brain at a time, which makes sense: it's about how many any of us can keep in mind. Displayed in two glass vitrines were the nine Bactrian princesses. Armless and legless, just tiny heads atop torsos that spread out like voluminously bustled skirts, they are profoundly enigmatic objects. The best of them—her head nods to the side as though she is asking a question of the floor—belongs to the Italian artist Giuseppe Penone, who has a sculpture in the Karlsaue Park, a blasted tree supporting a boulder in its stunted branches. There is some kind of poignant dialogue here, as there is among the princesses and, in an adjoining lobe of the brain, a suite of still lifes by Giorgio Morandi, and, in another lobe, a vitrine bearing objects from the National Museum of Beirut that were damaged during the Lebanese Civil War, one of which is a fusion of ivory, glass and terra-cotta, just an amorphous mass of material. It looks primordial, embryonic, full of a kind of pulsing energy, like something waiting to be born.
Flanking the entryway of the Fridericianum—guarding the brain, if you will—are two large rooms containing mostly nothing. There's a smattering of objects by other artists, and then there's the almost nothing, which is to say, that invisible piece by Ryan Gander. A wall label identifies its materials as "a gentle breeze pulling the spectator through the gallery space." In one of the rooms is a five-page, effusively apologetic handwritten letter from the artist Kai Althoff to Ms. Christov-Bakargiev in which he explains that while he is honored to be invited to participate in the exhibition, he is far too overwhelmed with other projects to create something he'd feel would be worthy of inclusion. It's a poignant testament to the pressures on artists in today's art world, with its breakneck pace of gallery shows, exhibitions and fairs. As you read it, you hear, from an adjacent gallery, the endlessly repeated line from Ceal Floyer's audio installation: "'Til I get it right," a woman's voice sings, over and over and over, and you experience Mr. Gander's gentle breeze. Hmmmm, you think. Nothing will come of nothing?