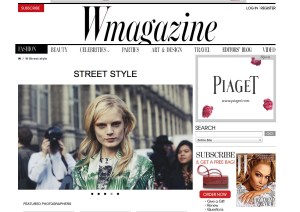 Ever since print advertising went south and magazine companies started shopping around for a revenue plan B, the glossies have publicly struggled to figure out the ecommerce puzzle.
E-retail shops like Esquire's Clad opened and shuttered, and flash sale partnerships fizzled. (Vogue x Gilt Groupe, anyone?) Shopping the magazine was an alluring idea—and doable in the age of the iPad—but it was complicated by the fact that the most luxurious were filled with price-upon-request pieces not meant for us plebes.
All that might be changing. Condé Nast's arty fashion title, W, has unveiled a plan to juggle the dual new media mandates of "social sharing" and "e-tail," and it's surprisingly democratic.
On Tuesday, W announced that it had picked ten of its favorite up-and-coming street style bloggers (including Candice Lake, Craig Arend, and Amy Creyer) and given them the keys to their own W vertical. Using a photo crowdsourcing app called Olapic (the Daily News employs it to collect reader photos of parades and protests), the bloggers can update instantly with photos from the field—or runway—providing a steady stream of stuff for W readers to repin, reblog, and retweet.
"We're always looking for ways to drive social engagement with the brand," W online director Christina Caldwell told Off the Record. "And W is known for fostering young talent in photographers specifically."
Enter ecommerce. Starting later this summer, W market editors will give online readers the ability to "shop the looks" in selected street style photos using Lyst.com. The hipper cousin of ShopStyle, Lyst is a social shopping network featuring only a carefully edited list of designers and department stores.
"Like many people, we've been thinking about the ecommerce angle for our sites, but I personally didn't like the shop-the-look idea for W when the fashion writers picked it," Ms. Caldwell explained. The outfits were rarely available for sale, and their nearest approximations paled in comparison.
"If I can't offer that exact outfit I don't think that's a very good experience for users," she said.
The ensembles worn by off-duty models and industry types who turn up on style blogs, on the other hand, are no problem for Lyst's roster of retailers. And because the style is dictated by real people, not W's fashion editors, the magazine can maintain editorial integrity while taking a bounty on any online sales they facilitate. Not that W has set up a revenue share yet.
"We haven't exactly worked out what the financial opportunity will be," Ms. Caldwell explained.
But if it sticks, it could be one of the least brand-damaging attempts at the unseemly business of magazine ecommerce to date. Except, perhaps, when one thinks of the street style bloggers, who are not paid contributors, making their photographs at best, free labor and and worst, free advertising for another company.
But, as Ms. Caldwell tells it, the arrangement works out for them too. Some of the photographers have opted into a sponsorship agreement with W, allowing Condé Nast to sell W-caliber advertisements on their own personal blogs.
"And we can always use them for online editorial assignments," she added.