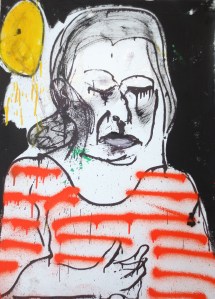 Recent art history is filled examples of artists painting their compatriots. Think of Philip Pearlstein doing Andy Warhol, or Warhol doing Joseph Beuys. More than 100 more examples are about to join that tradition, thanks to the Hole gallery's director, Kathy Grayson, who has asked scores of artists—including Yoko Ono, Ryan McGinley, Terence Koh, Tim Noble and Sue Webster (downtown types, for the most part)—to portray each other for a show that opens tomorrow, called "Portraits of a Generation."
"Some of them I just paired with their significant other, because that usually brings out a lot of juicy stuff and psychological drama :)," Ms. Grayson told Gallerist over e-mail. "Then, other artists I paired up thinking, 'These guys should be friends!' Then, some artists I paired up thinking, 'This could produce a fantastic artwork.' Big group shows like this are a community-building exercise, and I wanted this project to both connect new people and reinforce the creative bonds between existing friends."
Aurel Schmidt has been paired with her musician husband Donald Cummings of the band the Virgins; fashion designer Cynthia Rowley with her husband, Half Gallery owner Bill Powers; Yoko Ono with design team Three As Four; and longtime collaborators Tim Noble and Sue Webster ("who throughout their careers have made amazing horrifying portraits of each other," Ms. Grayson explained).
And what of Ms. Grayson's friendship-making picks?
"Fred does these sexy portraits—he does these paintings with crystals on them, kind of like bling art…. and Jeanette's got this really fun look," Laura O'Reilly, the Hole's associate director, told us of musician and all-around art impresario Fab Five Freddy and Jeanette Hayes—"an emerging Internet/Blackberry/mobile artist."
Flouting the show's title, these artists span multiple generations and work in a variety of mediums, including GIFs ("moving portraits"). And the artists need not be living. Dash Snow, who died in 2009, is one of the included artists.
"Dash's best friend from his graffiti crew, Kunle Martins, wanted to make a portrait of Dash for the show," Ms. Grayson said. "Dash took many amazing Polaroids of Kunle while he was alive. So I borrowed one of these and Kunle made a great painting of Dash."
The only requirement was that the works be under three feet long or three feet wide. They'll be hung salon-style, all over the Hole's main gallery space. (The brick room in back, dubbed Gallery 3, will host an opening of Andre Saraiva's exhibition "Andrépolis.") But however accommodating size-wise, we can't promise the works, most of which will be for sale, will be affordable. The artist duo Tim Noble and Sue Webster's light work Toxic Schizophrenia sold at auction for $700,000.