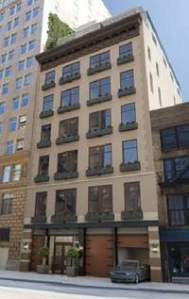 Chicago, it's really over. Sure, Ira Glass left a few years ago. Sure, he packed up the entire This American Life crew, said that he was never coming back, but all that time, he couldn't seem to settle down in any of the New York neighborhoods. And sometimes he even talked about how much he missed you, how he used to be able to get in a car and be anywhere in Chicago in 20 minutes. But now he's  gone and bought a condo at 159 West 24th Street!
Yes, Mr. Glass and wife Anaheed Alani paid $1.26 million for the one-bedroom apartment, a buy first spotted by The Real Deal.
The sponsor-owned unit, listed with Warburg brokers Herbert Chou, Joel Moss and Jocelyn Turken for $1.37 million, looks a little bland, or as the listing boasts, it "has all the charm suggested in its name." But we're sure the man who made a name for himself with the most un-NPR voice possible, only to launch a new generation of slavishly quirky NPR voices, will do something interesting with it.
The lofted apartment has high ceilings and a "windowed home office/sleeping area," making it "the perfect space to entertain or to enjoy a quiet evening at home." The building also has a shared roof deck. Maybe you can even see the Hudson from there? I mean, it's no Lake Michigan, and imagine what kind of place $1.26 million would buy in Chicago. But the Windy City wishes Mr. Glass and his new real estate every happiness.
kvelsey@observer.com