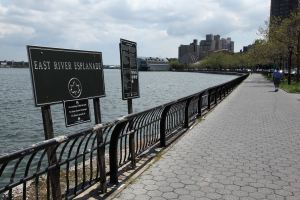 If you can craft the hottest park ever from a mile of old rail track, imagine what you could do with a park that spans more than 60 East River blocks.
Right now the esplanade that reaches from 60th to 125th Streets is a bland stretch of pot-holed concrete wedged between the river and the FDR. But what if there were gondolas? And inland canals integrating the Upper East Side and East Harlem? Or a web of boardwalks stretching out into the water? Bridges over the FDR? Kayaking through Hell's Gate?
We doubt that the city will adopt any of the eight fantastical winners that emerged from the "Reimagining the Waterfront" design competition sponsored by the civic group Civitas, but it would be awesome if they did.
True, the esplanade is not smack dab in the middle of the hottest neighborhood ever, but we hear that the Upper East Side is kind of happening these days. And gondolas might just push it over the edge.
Urban planning buffs, architecture aficionados, Upper East Side lovers and the simply curious can check out the eight winning designs at the Museum of the City of New York starting tonight. The exhibit that also includes historic photographs; it will stay up through October 28.
The eight winning designs were culled from more than 90 submissions. And Civitas isn't particularly worried that they might be a little out there. It's mostly to get people thinking about what the underutilized strip of prime real estate might be. And perhaps something of a plea that whatever makeover lies in the esplanade's future will be more exciting than the much-needed but less than visionary $80 million renovation of its sister to the South, the 56-acre East River Park on the Lower East Side.
"This was an ideas competition, and as such, part of the notion was to create intrigue and excitement about what the East Side could be," Rob Rogers of Rogers Marvel Architects, one of the competition's judges, told The Architects Newspaper when winners were announced in April.
"Our hope is that park users from New York and abroad will visit the exhibition, be inspired by the creativity of the many designs on display and then make the short walk to the East River Esplanade," wrote Citivas president Felipe Ventegeat.
Do you hear that tourists? Chelsea may not like you, but the Upper East Side really, really wishes you would visit sometime.
kvelsey@observer.com