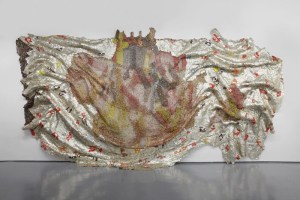 Here's a little Friday pleasure reading for you. The Plain Dealer spoke with the Akron Art Museum staff members charged with installing El Anatsui's exhibition there, "Gravity and Grace," and it turns out that hanging his works, which are made of thousands of bottle caps and other detritus that he has stitched together, are pretty difficult to install.
From The Plain Dealer:
Collections Manager Arnold Tunstall said Thursday that it took a larger-than-usual crew of 11 art handlers several months to figure out how to install Anatsui's vast, complex and delicate constructions, made of zillions of discarded liquor bottle caps fastened together with slender lengths of copper wire to make undulating metal sheets of color.

"It was very stressful," Tunstall said. "Very anxiety-producing."
Mr. Anatsui allows installers to choose how to position the ripples in his works, which adds to the stress.
Naturally the artist came to the museum for the opening of the exhibition. Was he impressed with their efforts? Read the full article to find out.