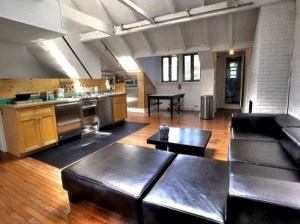 For $1.4 million, you probably couldn't afford a Jackson Pollock painting, but you can buy his old apartment at 46 Carmine Street.
The Greenwich Village penthouse is bright and airy, "like a Paris atelier," the listing helpfully suggests, but it also has plenty of dark and ominous overtones. Not only did the famously-troubled painter live there, but the building was once owned by Aaron Burr. Perhaps he even paced back and forth across the apartment, practicing the agile moves that felled Alexander Hamilton.
The condo, listed with Citi Habitats broker Udi Eliasi, was on the market last fall, but was pulled temporarily so that the tenant could spend his last months of his lease enjoying the four skylights and the fireplace and the open loft bedroom undisturbed by buyers tromping through the loft.
The listing bills the space as "bohemian" and "romantic," but it's also business-savvy, and comes with one-third of the commercial space on the ground floor that is said to pay all the maintenance and taxes on the building.
At 800-square feet, it's one of the smallest penthouses on the market (the "adorable" bathroom looks scarcely bigger than a shower stall, even if it does have a Japanese soaking tub), but that just means you can spend your weekends obsessively checking the floorboards for paint splatters.
See inside Jackson Pollock's apartment >>
kvelsey@observer.com