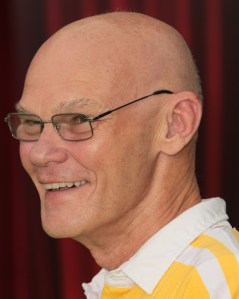 Liberal political consultant James Carville sent a fundraising email to supporters of upstate New York congresswoman Louise Slaughter entitled "The Tea Party is Over." In the email, Mr. Carville claimed the Tea Party isn't entirely finished, but he said they can be eliminated by donating to "proud Democrats like Louise Slaughter."
"These Tea Party Republicans have worn out their welcome. But I'm telling you — getting rid of 'em won't be easy. They're not leaving on their own. We're going to have to boot them out the door like unwanted house guests," Mr. Carville wrote. "That's why we've got to get behind proud Democrats like Louise Slaughter to make sure we can win a Democratic Majority."
Mr. Carville pointed to the conservative mega donors Sheldon Adelson and the Koch brothers as evidence Democrats need to open their wallets if they want to take out the Tea Party and win a majority in Congress.
"With the Koch boys, Mr. Rove and a Fat Cat Las Vegas casino mogul writing multi-million dollar checks to try and buy this election, it's going to take every last one of us kicking in what we can to make sure we reelect good folks like Louise and win a Democratic Majority," Mr. Carville wrote.
Ms. Slaughter is facing a challenge from Republican Monroe County Executive Maggie Brooks. Ms. Slaughter currently has $670,189 cash on hand compared to Ms. Brooks' $367,583. Despite Ms. Slaughter's financial advantage, Ms. Brooks is seen as a formidable candidate and is rather popular in the district, which is favorable to Democrats, but grew more Republican through redistricting.