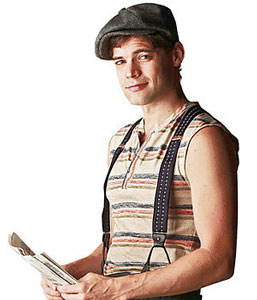 Smash, the NBC Monday night show that will be going on to a second season despite all evidence that it should have been canceled three episodes in, is getting a new star. Jeremy Jordan, currently starring in Broadway's Newsies, will be joining the cast of Smash, helping replace Jaime Cepero and Raza Jaffrey and Brian D'Arcy James (Ellis, Dev, and Frank, respectively), who are leaving the show.
According to TVLine.com:
His character is one of three roles being added under new showrunner Josh Safran. The other newbies, a gay male Broadway dreamer and an African-American female chorus member, have yet to be cast.
No word yet on who Mr.Jordan will be portraying in the new season, but our guess is that he'll be playing Danny, described as "a straight, working class fella in his mid-20s and from Brooklyn. He is summed up as 'sexy, charismatic and musically gifted, but also self-destructive and remote.'"