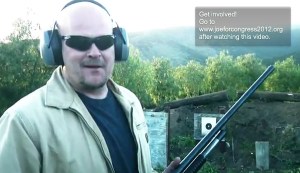 Ohio congressional candidate Samuel "Joe The Plumber" Wurzelbacher shot back against critics of his campaign video that said gun control laws contributed to the Holocaust and the Armenian genocide with a post on the conservative blog site RedState.com. Mr. Wurzelbacher's post, entitled "I Can See Russia From My Backyard," blamed controversy over the video on an "onslaught of lies and distortions" spread by a "far left" media "propaganda machine," specifically ThinkProgress.
"Last week I released a video on the 2nd Amendment stating well-documented, historical facts about totalitarian leaders and their implementation of gun control laws prior to exterminating millions of their own citizens in 1911 Turkey and 1939 Nazi Germany," Mr. Wurzelbacher wrote. "Within hours, this far-left, anti-gun, liberal propaganda wing of the Center for American Progress organization–'Think Progress'–posted a false story with the blazing headline: 'JOE THE PLUMBER: GUN CONTROL CAUSED THE HOLOCAUST. As of this writing, that headline, or a similar variant thereof, is mentioned on the internet over 500,000 times….But none of these 'journalists' checked to see if that is what I actually said."
Mr. Wurzelbacher's video was first reported by The Politicker. It was subsequently picked up by ThinkProgress and a slew of other media outlets. The clip also provoked angry responses from Jewish groups in Ohio and Washington. In the clip, Mr. Wurzelbacher discusses the Holocaust and the Armenian genocide while shooting produce.
"In 1911, Turkey established gun control. From 1915 to 1917 one-point-five million Armenians, unable to defend themselves were exterminated," Mr. Wurzelbacher says in the clip. "In 1939, Germany established gun control. From 1939 to 1945, six million Jews and seven million others unable to defend themselves were exterminated."
Mr. Wurzelbacher's spokesman, Phil Christofanelli, subsequently defended the clip to The Politicker by saying it's a "historical fact" gun control was a contributing factor in the Holocaust and that "it would seem the argument" would also apply to slavery in the United States.
"They always use gun control before abusing the rights of people, so, yeah, that's our position and that's what was said in the video. And there's nothing offensive about it, it's just historical fact," said Mr. Christofanelli. "It's a historical fact that Hitler implemented gun control before the Holocaust and that's just a fact that was pointed out in the video."
In his blog post, Mr. Wurzelbacher doesn't back down from any of the claims made in his video.
"The fact is, this video was to let voters know what I believe about gun rights," he wrote.
Though he stands by the clip, he claims the attention it received was part of a campaign to smear him. He cites past Saturday Night Live skits as other examples of the media misrepresenting conservative politicians.
"The mainstream media has become a propaganda machine. Their strategy is to create a fictional narrative and exploit it to identify, isolate, and destroy their target," Mr. Wurzelbacher wrote. "Case in point: Sarah Palin never said she could see Russia from her backyard– that was a Saturday Night Live skit. Same with attributing 'strategery' to George W. Bush–that was Will Ferrell."
Mr. Wurzelbacher concluded his blog post by encouraging readers to support his congressional campaign against Democratic Rep. Marcy Kaptur.
"So why am I telling you all this? It's pretty simple: you see, the gun hating liberals want to re-write history, and they need people like me to shut up. I, for one, will not," he wrote. "Please go to my website and support to my campaign so I can fight to preserve our 2nd Amendment and all the freedoms that make America the greatest country in history."