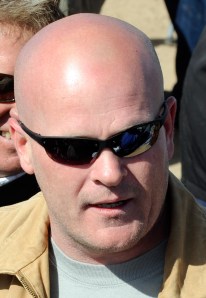 Ohio congressional candidate and living 2008 campaign artifact Samuel "Joe The Plumber" Wurzelbacher released a video yesterday in which he cited gun control as a contributing cause for the Holocaust and the Armenian genocide. After The Politicker published a story about the clip, we noticed many angry responses from people who were offended by Mr. Wurzelbacher's claim gun control can be blamed for the Holocaust. We reached out to Mr. Wurzelbacher and got a call back from his campaign spokesman, Phil Christofanelli, who said "there's nothing offensive" about the video and discussed how gun control may have led to slavery in the United States too.
"Joe is a student of history. He knows that the founders read John Locke and they understood that the 2nd Amendment was always the people's last defense against tyrannical government," he said. "They always use gun control before abusing the rights of people, so, yeah, that's our position and that's what was said in the video. And there's nothing offensive about it, it's just historical fact."

Mr. Christofanelli said Mr. Wurzelbacher isn't the first person to suggest gun control was partially responsible for the Holocaust.
"It's a historical fact that Hitler implemented gun control before the Holocaust and that's just a fact that was pointed out in the video," Mr. Christofanelli said. "There's an entire organization called 'Jews For The Preservation of Firearm Ownership' who put forward the argument for years that gun control was a contributing factor to the Holocaust."
In addition to the Armenian genocide and the Holocaust, Mr. Christofanelli also said gun control may have contributed the enslavement of African Americans.
"Well, blacks weren't allowed to own guns in the south, that's a historical fact as well," said Mr. Christofanelli. "So, it would seem that the argument would apply there as well."