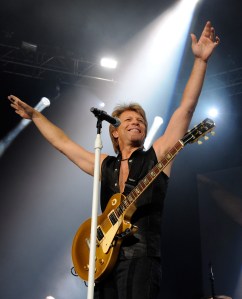 President Barack Obama brought a special guest on board his flight to New York for a trio of fundraisers this evening–1980's rocker Jon Bon Jovi. Mr. Bon Jovi is headlining the president's second fundraiser of the night, a gala concert at the Waldorf Astoria for which tickets start at $2,500 per person.
Before Mr. Bon Jovi's concert, President Obama appeared with former President Bill Clinton at the home of billionaire Marc Lasry, the founder of the hedge fund Avenue Capital Group. Tickets for this reception cost  $40,000 per person. Interestingly, in an appearance on CNBC last week, Mr. Lasry pushed back against the Obama campaign's attacks on Mitt Romney's career with Bain Capital by saying private equity does "very good work" and describing the campaign's criticism of the industry as "just politics."
Mr. Obama's third and final fundraiser of the night will be a Broadway concert at the New Amsterdam Theater featuring performances from Neil Patrick Harris, Audra McDonald, Patti LuPone, Angela Lansbury, Jeffrey Wright, Stockard Channing and Mandy Patinkin. Tickets for the concert started at $250 and 1,700 people are expected to attend.
After the reporters in the White House press pool took notice of Mr. Bon Jovi's ride on Air Force One, a White House official made sure to let them know taxpayers didn't foot the bill for his plane ticket.
"For those of you asking Bon Jovi's travel was paid for by the campaign," the official, who went unnamed in the pool report, said.