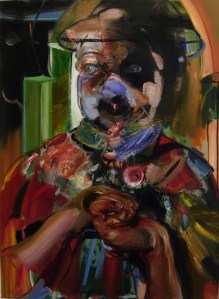 Author Jonathan Safran Foer is teaming up with Samuel Messer, a painter and associate dean of Yale School of Art, on a retrospective exhibition at Fredericks & Freiser gallery in Chelsea. The only thing is, the retrospective, which opens June 21, is for a fictional character named "S—."
"Retrospective of S" is really a summer group show—with a twist. The paintings in this female artist's show are actually done by 10 different artists selected by Mr. Messer: Natalie Frank, Rochelle Feinstein, Francesca Lo Russo, Josephine Messer, Judith Linhares, Njideka Akunyili, Caitlin Cherry, Chie Fueki, Jackie Gendel and Jennifer Packer.
Mr. Foer wrote all 10 of the wall texts, which don't so much describe the work as delineate the narrative of the biography of this fictional character.
The artwork in turn corresponds to the various stages of S's life, beginning in 1964, when she was 14 years old ("With no artistic training whatsoever, and only the public library as an art education, her youthful work flowed directly, and without mediation, from her imagination"), through her penniless beginnings as an artist living in a five-story walk-up ("At the age of 21, and with no money, belongings or plan, S — moved to New York"), her development ("S —'s fascination with the representation of sex acts took full flight on the cusp of the 80s") and her critical acclaim ("S —'s 1993 show at H — Gallery propelled her into the art stratosphere"). It concludes in 2010 when S is 60.
Though he's curating the show, Mr. Messer told Gallerist that he doesn't yet know what all of the artists are creating. But he's flexible. He views the project along the lines of the historic collaboration between artist Robert Rauschenberg, musician John Cage and choreographer Merce Cunningham. "The only premise was it was going to be a 30-minute piece and none of them knew what the others were going to do until the night of the performance," he said.
Similar to that creative triumvirate, the artists in this show don't know what the other artists are creating. Some will be bringing new work painted specifically for the show while others will be bring pre-existing work that is era-appropriate. "Rochelle gave me something from the '90s," said Mr. Messer.
Artist Natalie Frank was given the text for S's biography entitled The Onset of the Loss of Tactility, 2000. It begins:
In January of 2000, S's husband, Simon Miller, died after a prolonged battle with cancer. That spring, she began a series of paintings of people who were in the process of losing one of their senses.
"The loss of tactility and the loss of the senses perfectly describe the current work I am doing," Ms. Frank told Gallerist over e-mail. "In this, her/his hands are contorted and the face partly obscured by shadow, disintegrating, as memory does to the images we keep in our heads."
As for Mr. Foer, while he does create collage work, according to Mr. Messer, he's sticking to the role of writer for this collaboration. Here is one of the wall texts he's produced for S, reflecting her life in the '80s:
4. All Sex Work And No Play, 1979

S —'s fascination with the representation of sex acts took full flight on the cusp of the 80s. What began as a kind of ironic lark — "My brush got dirty" — developed into a deep investigation of paint and flesh. Critics have noted the remarkable absence of sexuality in these explicitly sexual scenes — it is possible to look at a painting like this one without blushing, or becoming aroused, or feeling a need to either avert one's eyes or stare.

The mingling of art and pornography was already well-trod ground by this point, yet it was these paintings that brought S — her first significant critical attention. "It is easy to make any old thing sexy," a reviewer observed. "Here we have the impossible: sex made into any old thing. But what a beautiful anything!"