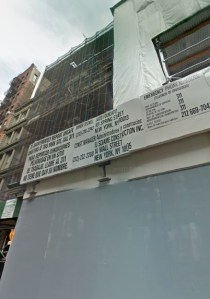 Next spring, the Judd Foundation will open the doors to Donald Judd's former studio at 101 Spring Street, art blog Art Fag City reports today.
The space will not be a museum, Judd Foundation Program Officer Christopher Longfellow told the blog, though there will be tours and, one imagines, works by the artist on display. The space is currently under renovation and has been for some time, as you can see from the photo to the left.
The Judd Foundation was started by the artist to preserve his legacy after his death and is different from the Chinati Foundation, which is more closely tied to the museum by that name in Marfa, Texas.