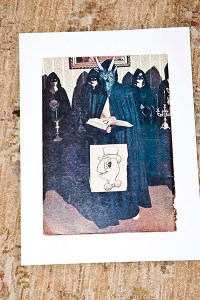 Artist Julien Langendorff, a Paris-based artist and musician with an upcoming show at Agnès b.'s Galerie du Jour, has an intriguing interview up on Opening Ceremony in which he discusses being raised by a psychics (I think my grandmother was kind of a witch"), his interest in Church of Satan founder Anton LaVey, getting rejected by tony Paris art school École des Beaux Arts ("Then again, the director now buys my stuff"), as well as having his tarot read by Spanish filmmaker Alejandro Jodorowsky.
Along with some images of his work and studio, we enjoyed this portion of the interview, the portion about Mr. Jodorowsky and tarot, of course:
AS: I hear he does readings in a Parisian cafe every Wednesday.
JL: Yeah, he read mine two years ago! You just go to this café and there are about fifty people there. You have to write your name on a piece of paper, so you get picked randomly––he only sees about ten people each time. And I was picked! You sit at the table with him. He does the reading. It lasts 15 minutes. It's really awesome to meet him because he's a very interesting character.

AS: What did he say?
JL: Well, first off it was very frustrating because I wanted to talk about his work, but he's really serious about the tarot, so you can't talk about anything else. Right off the bat, he started talking about drugs, which was very embarrassing because everybody was around—"I think you take drugs, do you draw on drugs?" He also told me some stuff that sounded pretty obscure back then but that makes sense right now. He also said I'd be very rich. I hope that happens!