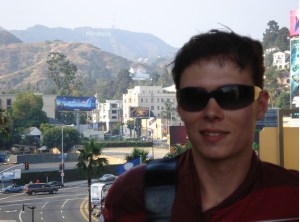 The Los Angeles Police Department is investigating the possibility accused Canadian killer Luka Magnotta was involved in a gruesome decapitation and killing where the victim's head and hands were placed in a wooded area by the Hollywood Sign. The Observer was first to report links between Mr. Magnotta and the Hollywood Sign killing on Monday. We previously alerted police in Montreal amd Los Angeles to the potential connection on Saturday.
"Our detectives are contacting their counterparts in Canada and to see if suspect was in Hollywood at the time," LAPD spokesman Lyle Knight told ABC News. "It's an open investigation. Our detectives are trying too see if there is a connection."
On Monday, Mr. Magnotta was arrested in Berlin after an international manhunt. He is accused of killing a man named Lin Jun in Montreal late last month, mutilating and having sex with the corpse, filming the entire crime in a gruesome video and mailing Mr. Jun's body parts to the headquarters of Canadian political parties.
Mr. Magnotta is a sometime porn actor, escort and alleged kitten killer who left a bizarre trail across the internet over the past few years. The Observer uncovered Facebook postings possibly made by Mr. Magnotta indicating he was in Los Angeles "doing massages" around the time of the Hollywood Sign killing. According to police in Canada, Mr. Magnotta maintained as many as 70 different Facebook accounts.
The severed head and hands were found by the Hollywood Sign by two women who were walking their dogs on January 17. Police later identified the victim as Hervey Medellin, 66. Medellin was openly gay and was initially reported missing by his boyfriend. The case remains unsolved. The Facebook postings, the sexuality of both victims and the methodology of the killings, which both involved dismembered body parts being placed in prominent locations are all remarkably similar.
After The Observer alerted the LAPD to the potential links between Mr. Magnotta and the Hollywood Sign killing this weekend, we were told our information was being "sent to our Robbery Homicide Division," which is investigating Medellin's murder. Montreal police said they would be getting in touch with the LAPD in response to our tip.
"I'm going to call LAPD or speak with someone there to see if there's a link between our file and their file," Detective Sergeant Antonio Paradiso of the Service de police de la Ville de Montréal told us on Monday.