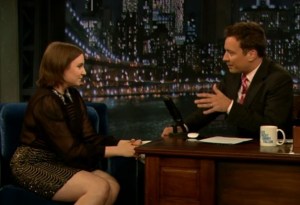 Can you guys believe that there is only one episode of Girls left? That's so depressing! Will Shoshanna ever lose her virginity? Will Marnie and Hannah ever make up? Will we ever care about Jessa, or stop caring about Ray? (Alex Karpovsky is our new crush, for now and forever.) We hope the season finale will answer some, if not all of these questions!
In the meantime, here is Lena Dunham on Late Night Wednesday night, where she told Jimmy Fallon about her very weird high school crush on him. (It involved a play she wrote, obviously!)

We don't know why St. Ann's didn't go for this kind of dramatic, Charlie Kaufman-esque storyline back in high school, but we're sure Spike Jonze or someone would be happy to option it today.