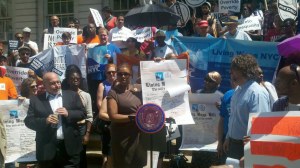 "Yes! Yes! Yes! Come, come, ready?" Councilwoman Tish James hurriedly exclaimed when we started to ask her about today's Supreme Court ruling on health care reform before a rally celebrating the vote on living wage legislation coming later today.
"So, today I like Roberts. I'm happy that the mandate was upheld. This is a great day for democracy, it's a great day for the budget, it's a great day for childcare and after school programs," she answered. "So, overall, today's a proud day!"
"It's a good day. It's a good day," Stuart Appelbaum, the president of the RWDSU, agreed when asked the same question. "We're doing living wage in New York and the Supreme Court agreed with the Obama administration on health care reform."
The rally for living wage thus proceeded in a jubilant mood. The votes to override Mayor Michael Bloomberg's veto have already been assembled and the outcome of today's City Council session already determined.
"Today is a great day of course, with what happened with the Supreme Court in Washington, a very important day for people of modest means throughout the country," Councilman Oliver Koppell said in front of the rallying advocates. "And what we're doing today is a movement in the same direction to try and ensure that … there is at least a little bit of justice between those who have modest means and those who have wealth and power."
For her part, Ms. James spoke like a preacher when her turn came to stand in front of the podium.
"So I hold up this tattered and torn will of the people, because it represents their tattered lives!" she declared, displaying a ripped sign containing advocates' signatures. "Those who have been living under the weight of poverty wages, this is symbolic of their lives. … Today, we stand up for justice! Today, justice rains down!"