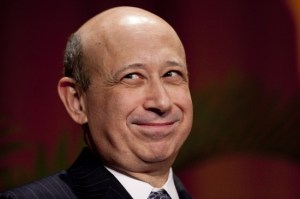 Much has been made of Lloyd Blankfein's comments this morning during a speech in front of the Economic Club of Chicago, where the Goldman Sachs chief executive discussed matters like the Euro crisis, the future of the financial services industry, and why Goldman Sachs is (supposedly) bullish on China.
And then there was his aside about sticking around at Goldman.
In response to questions, Mr. Blankfein threw cold water on suggestions that it might be time for him to retire: "I am 57. What am I going to do with the other 60 years of my life?"
Lloyd Blankfein doesn't just intend on dying in his job, but he intends doing it through 117 years of living! And just because Steve Jobs couldn't buy away cancer (or at least not in 2011) doesn't mean Goldman, like everything else that gets in their way, won't be able to figure out a way around it.
You heard it here first: Short mortality. And cancer.
fkamer@observer.com | @weareyourfek