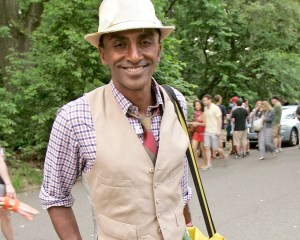 Even before it played host to President Obama's $1.5 million fundraiser dinner on March 29, 2011, Marcus Samuelsson's Harlem soul food restaurant Red Rooster was a runaway success. Which unfortunately says more about America's inability to grasp the nuances of race, neighborhood and food than it does about Mr. Samuelsson's skills in the kitchen.
With Red Rooster, the Ethiopian-born chef behind Aquavit has given himself a difficult assignment—writing the report for a book he never read.
But it's the book he wrote, his new memoir Yes, Chef, out June 26 from Random House—that most glaringly demonstrates the shortcomings of his approach to Harlem. As successful as the restaurant has been as a business proposition, it fails utterly in its goal of paying homage to the neighborhood, coming off instead like an embarrassing exercise in condescension, much like the book.
"I had seen the photographs of Harlem in its glory days," Mr. Samuelsson tells us at one point, "stylish men in bespoke suits, women so well dressed that they'd put the models in Vogue to shame…. I knew that Harlemites loved to dance, to pray, and to eat."
Thank you, Marcus, for that ride to the intersection of Stigma St. and Stereotype Blvd., but we're not looking for the Cotton Club.
Here's what the chef has to say about the area today:
"Harlem is not a playground for rich bankers and consultants. It's got students of all colors. It's got old people who keep history and tell tall tales. It's got musicians and artists and I swear I know a guy who is the next incarnation of Prince…"
The entire book reads like it was ghost-written by Rudyard Kipling with an assist by Girls heroine Hannah Horvath, who infamously never encountered a black person in all of season one (except that homeless guy).
"People speak to each other on the street in Harlem," our intrepid explorer reports. "They'll tell you when they like what you're wearing and when they disagree with the slogan on your t-shirt. Men compliment pretty women and women either respond in kind or tell them to keep on stepping."
Honestly, I thought the next line was going to be about the sweet smell of cocoa butter on Malcolm X Blvd, but luckily, Mr. Samuelsson spares us any olfactory reveries.
Still, who am I, a Taiwanese-Chinese Stuytown resident by way of Pittsburgh, Orlando, and D.C., to stick up for the real Harlem? I had a feeling there was something anachronistic about Mr. Samuelsson's take on the area, but to be sure, I dined at Red Rooster with rapper-producer Shiest Bubz (Purple City Byrd Gang) a Harlem native, whom I've known since '08. It's been two years since Rooster opened, but Shiest had never eaten there. Why? "Because every time we come it's some extra-bougie extravagant event," he said, "and then you can't even get takeout up in there!"
Interestingly, Mr. Samuelsson was schooled on how important take-out was to Harlemites, who prefer not to dine on clusterfuck 125th Street.
"The old ladies thought we were stupid for building a restaurant on the block next to Sylvia's," he writes, "and all the young businesspeople in the neighborhood kept telling us to make sure we had takeout."
He should have listened. Most locals tend to avoid 125th Street, especially when they're looking for a relaxing evening. Opening a restaurant there is like buying your Chinese grandmother an apartment marked No. 4; the fact that you don't accept her superstitions says more about your environment and upbringing than anything else. She'll most likely blame your parents for your ignorance, but in Marcus' instance, I blame the media and the puppeteers enabling this fairytale.
It is an appealing story: Marcus was born in a clay house in Ethiopia; his mother who died of tuberculosis when he was just 3, and he was adopted by a "caring Swedish couple and given a nice middle-class Swedish life," as he puts it. He came to America at 22, landing a job at Aquavit, where he quickly rose to executive chef. Within a few years, he became the youngest chef to ever receive three stars from the New York Times. With those looks, that skin, a warm heart, and skills to match, he became a star overnight. Soon he was opening Aquavits in Stockholm and Tokyo, along with Riingo, and Merkato 55, in the Meatpacking District (both since closed). Reflecting on the Samuelsson phenomenon, culinary historian Michael Twitty, whose blog, Afroculinaria, is dedicated to preparing, preserving, and promoting African American foodways, called it an example of "the one negro syndrome." The problem, as he put it, is that "when there is an exceptional person of color, he automatically becomes the figurehead. I think our job as people of color, through writing, cooking, selling, should be to put that stereotype to death. It becomes a thing where they say 'Why can't you be like Jessica Harris?' 'Why can't you be like Marcus Samuelsson?' We walk a very fine line between exceptionalism and tokenism."
As Chef Joe Randall, the proprietor of an acclaimed cooking school in Savannah, told CNN, on the subject of Mr. Samuelsson,  "There are plenty of African Americans who cook and cook well in this country, they just don't necessarily get the notoriety that some people get."
Indeed, though we're often led to believe there are only a handful of black chefs in New York, this is simply untrue. Where was the foodie media before Jerk City closed? Peter Meehan wrote a great review of Zoma, one of two Harlem restaurants receiving Michelin Bib Gourmand recognition, nobody ever seems to interview Henock Kejela, the owner.
I asked Mr. Twitty why more journalists weren't seeking insight from people like him. As we spoke, he was in Louisiana, wrapping up his Southern Discomfort Tour, a series of cooking demonstrations and events at former plantations. "My phone ain't ringing," he said.
Back at Red Rooster, Shiest ordered roasted Berbere chicken. He didn't seem to be enjoying himself.
"It's upsetting, because a lot of our good spots like Strawberry closed down, but then this opened on 125th, the President came, and it got all the attention along with a whole wave of new restaurants. In Harlem, we take pride in having little spots that wow people. They over-deliver. This place is like a factory. People from other neighborhoods come and they think this is what Harlem is about, but it's not. Who in Harlem pays $28 for chicken?!"
Asked for suggestions of spots that better represented the Harlem he loved, Shiest namechecked Amy Ruth's, which was mentioned by the Times in an article about the last influx of new Harlem restaurants back in 2000. "Harlem's new restaurants exert a home-grown charm," Eric Asimov wrote, "aimed mostly at Harlem's longtime residents, staying true to Southern and Caribbean themes."
That's the type of restaurant you want to see build a foundation in the neighborhood. It's a gathering spot, an amenity, and a job provider for the people actually living there. Mr. Samuelsson is to be commended for having a predominantly if not all black wait staff, but here's how he speaks about them in his memoir: "The women of color and the gay men of color really thrived in the early days," he writes, but "the straight black men came in with a chip on their shoulders the size of Lil Wayne's gold teeth and they stepped to me with all the impatience and fury of men who did not know how to deal with authority figures."
They stepped to you, did they?
I ran the passage by journalist Sacha Jenkins of EgoTrip and VH1's The (White) Rapper Show.  "It's awesome that he's
---

After reading Mr. Samuelsson's memoir and dining twice at Red Rooster, I can't help but conclude that the eager culture vulture and self-proclaimed global flavor chaser is missing the point. What he doesn't realize about Harlem, soul food and perhaps himself is that they're all good enough already. It's the rest of the world that needs to catch up.

---
able to employ people, many of whom I imagine are of color," Mr. Jenkins said, "but clearly this Lil' Wayne analogy is really racially insensitive, and it speaks to his lack of understanding about what the black experience in America is."
Marcus Samuelsson is a supremely important global voice in America, but that shouldn't give him license to speak for Harlem. By catering to diners outside Harlem and talking down to the ones who live there—promising things like "elevated" soul food—he treats the place like a museum exhibit. He speaks in stereotypes, desperately trying to capture snapshots of villagers dancing, praying, and bespoke-suiting to display in this playhouse of a restaurant.
In his memoir, Mr. Samuelsson seems more worried about catering to a downtown clientele. "In the weeks before the restaurant opened I wondered at times if people would come," he writes. "For our potential clientele on the Upper West Side and Upper East Side, it's just ten minutes in a taxi. But people keep asking me 'Is it safe? Will I be able to get a taxi home?'"
He continues, "We wanted and needed three types of diner to give the Rooster the flavor that we considered the yummiest: Harlemites, the men and women (regardless of color) who are our neighbors, whose very existence provides the culture and color that is Harlem; downtown diners who love restaurants and great food; and out-of-towners who have traveled from as far away as San Francisco, Sweden, and South Africa."
In fact, he's done little to appeal to that first category. With 2000 requests a night and just 600 covers, he gloats, "We're in the 'polite no' business."
Shiest tried to get a reservation without success—until his publicist reached out and scored us a table. It's not hard to see the problem: Red Rooster takes reservations 30 days out, which means that for the most part, only diners who plan the excursion well in advance will nail a table.
After reading Mr. Samuelsson's memoir and dining twice at Red Rooster, I can't help but conclude that the eager culture vulture and self-proclaimed global flavor chaser is missing the point. What he doesn't realize about Harlem, soul food and perhaps himself is that they're all good enough already. It's the rest of the world that needs to catch up.
His talk of elevating soul food is an absurd joke to anyone who's ever dined at spectacular neighborhood restaurants like Miss Mamie's, Charles' Country Pan Fried Chicken, Londel's, or even the slightly more expensive Mobay Uptown. And then there are the numerous cuchifritos joints and lechoneras that blanket the neighborhood, serving rabo guisado, mofongo, arroz con pollo, and bacalao. My favorites are the ones that pickle their own chili sauce.
And yet: "In Sweden, we do a lot of cross-country skiing," Mr. Samuelsson writes. "And when you ski, just in the woods, not in a resort, the first skier has to plow. That's how I think of myself—with the restaurant, with the Harlem dining scene. I'm the guy who has to plow."
He has entirely bought into the establishment idea that table clothes, square plates, and stars define an objectively good restaurant. The value system he applies to Harlem is not one the community has ever accepted, and frankly, the rest of New York's neighborhoods and food scenes are rejecting it as well. While the rest of us are busy winning over New York City with fistfuls of cilantro, funny glasses, and raw dining rooms, Marcus is up in Harlem plowing for the old guard—trying to carve out a new market for an outdated sensibility. He's importing a concept on its last legs and trying to convince Harlem it's new and worthy. Red Rooster might work better in a place like Las Vegas' New York New York Hotel, a sorry attempt at recreating the city for people walking around with souvenir drinks. It doesn't belong in Harlem.
Which isn't to say that the man can't cook. Aquavit remains an impressive achievement. And while Red Rooster served a myriad of misses—the Berbere roasted chicken came swimming in broken-down murky brown sauce, the cornbread was stale, and the $18 dirty rice, with five measly U26 shrimp, was tepid—the Swedish-inflected offerings, like Helga's Meatballs with lingonberries, were excellent. Mr. Samuelsson's longtime friend and business partner at Red Rooster, Andrew Chapman, is Swedish as well, and this is where it becomes tricky understanding Samuelsson.
The majority of the book—and a large portion of his life—are devoted to finding his past in Ethiopia, and his efforts are at once admirable, heartbreaking and confused. No one can tell you who you are but you. As the first of my family born in America, I've at times felt lost, and you can't fault a man for trying to find his home. As Mr. Samuelsson writes, "I spent so much of my life on the outside that I began to doubt that I would ever truly be in with any one people, any one place, any one tribe. But Harlem is big enough, diverse enough, scrappy enough, old enough, and new enough to encompass all that I am and all that I hope to be."
The problem with Red Rooster is that it's about more than just Marcus Samuelsson. In his quest for a home and a business success, he's doing a gross injustice to a neighborhood, a culture and a history that has already seen its share of struggles.
Then again, to hear Mr. Samuelsson tell it, things are looking up. At one point, he writes about noticing how much the neighborhood had changed in the six years since he'd moved in. "People were walking with Target bags now," he notes. "It made me smile."