If you thought the tale of Anna Gristina—the soccer mom accused of being the ruthless leader of a prostitution ring catering to wealthy, powerful clients that's supposedly corrupted New York City's most ostensibly incorruptible people (like the D.A.'s office)—was just a New York story, you were wrong. Matt Lauer interviewed her from Rikers Island for this morning's Today show. Notable moments:
Waterworks: The tears start flowing early from Gristina before the first minute, when she talks about her youngest son coming to visit her in jail, where she's been for the last four months. She tells Lauer: "He cried the whole time and begged to stay with me."
Vocals: Her voice is surprisingly sweet. She sounds like Kelly McDonald in the trailers for Brave.
Omerta: The first and most crucial point comes in around 4:43, when Gristina's vaguely-noted "loyalty" is noted by Lauer without interruption—a savvy move on his part—as he speeds on to the second half of the question: Do you feel those you've been loyal to have been loyal to you? Gristina responds that she hasn't been in contact with anyone so she wouldn't know. Oh really? In a New York Post piece in which reporter Jeanne MacIntosh disclosed her prior relationship with Gristina, she told the reporter of a conversation she had with a friend tied up in the prosecution of madam Kristen Davis' case:
Asked if she knew the conversation was being recorded, she said, "No, but apparently it was."
Gristina most certainly knows who's loyal to her these days, and who isn't. To enter the idea of loyalty into the conversation would appear to acknowledge its need, but to deny it outright would've appeared silly, too. Lauer's question was smart; Gristina's response was smarter.
Powerful Men: Lauer asks if she knew anything about the powerful men the D.A. quizzed her on during the initial interrogation. The lawyers stop her from answering that and volley with Lauer. For the entirety of that question and the lawyers' answers that followed it, Gristina's face looked like this:
She didn't say a word.
Interrogation: Gristina is asked about how she was questioned. Interestingly, she explains that
Lawyers: Definitely there, definitely making sure she wouldn't comment on the accusations. Take a look at this: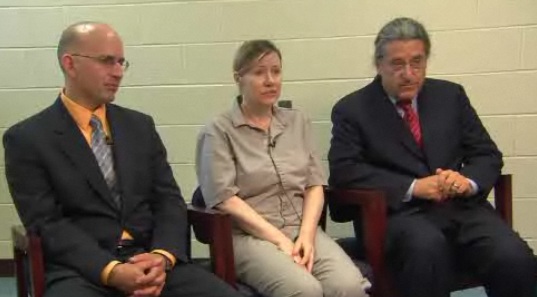 Match.com's Would-Be Competitor: Matt Lauer didn't exactly have to do hard-hitting interrogating to get the lawyers to speak up. For example, when asking of the matchmaking service Gristina contends she was running:
Matt Lauer: Would this include married man looking to have someone to have dinner with?
Anna Gristina: Very much like Match.com.
Matt Lauer: Would it also include married men looking for someone to have sex with?
Ponytailed Lawyer: I think we've answered that question. 'Very much like Match.com.'
Matt Lauer: If I say to you, 'Had you ever connected a married man—or any man, for that matter—with a woman in a matchmaking service,' have you done that?
Ponytailed Lawyer: Our response would be 'You sound like the Manhattan District Attorney's office.'
If Matt Lauer sounds like the D.A. in an interview like this, someone is doing their job incorrectly. Or correctly. At this point, it's hard to tell. Also:
Matt Lauer: So you won't say to me at all whether you have been involved in running any kind of legitimate, legal dating service in the past?
Ponytailed Lawyer: Given the state's allegations in this case, we'd be fools to answer your question.
So what did they answer? Again: It's hard to tell.
The Law Enforcement Connections: At one point Lauer asks about the wiretaps the D.A. reportedly has in their possession from the five year-long sting, wherein, Gristina is heard boasting of her connections to law enforcement. The lawyer responds that if the D.A. has them, they want to hear them (as they haven't been released to the defense lawyers as evidence), explaining that they won't "try this case by innuendo." Lauer counters that he's never been heard bragging about knowing cops in the event that he were arrested. The lawyers explain that Lauer's probably said a lot of things that could be made to sound "sinister." To which we'd counter: Maybe by Scientologists?
Finally, one of her lawyers, Pete Gleason—a former NYFD fireman who took the case pro-bono, and is putting his loft up for Gristina's bail, and who contends doing so is just an act of good samaritanism—was also interviewed by Lauer. And that was a separate trip in and of itself.
Lauer's interview can be seen here:
http://www.msnbc.msn.com/id/32545640
fkamer@observer.com | @weareyourfek