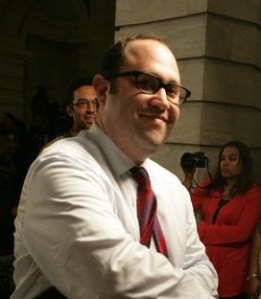 This morning, we wrote about an interview NYPD Commissioner Ray Kelly and the Department's top spokesman Paul Browne gave to the Queens Chronicle in which Mr. Browne discussed the arrests of reporters following the police raid on the Occupy Wall Street encampment in Zuccotti Park.
"Paul Browne, the deputy commissioner for public information, who accompanied Kelly to the interview, added that only one journalist was arrested during the operation, despite stories to the contrary, which he called 'a total myth,'" Chronicle Editor in Chief Peter C. Mastrosimone wrote.
We noted that this seemed to be a discrepancy with an email Mayor Bloomberg's top spokesman sent in response to a post on the Awl describing reporters arrested while covering the Occupy Wall Street raid in which he acknowledged five reporters with press credentials were arrested.
We reached out to both Mr. Browne and Mr. Loeser to explain why they seemed to be in disagreement. A heated Mr. Loeser called us back to explain that only one reporter was arrested in Zuccotti Park itself while the other reporters were arrested in other areas that day.
"He's talking about the issue at Zuccotti Park," Mr. Loeser said of Mr. Browne's comments. "There's not a discrepancy."
Following the raid on the park, protesters spilled out in the surrounding streets and spent hours clashing with the police. They also attempted to takeover Duarte Park on 6th Avenue and Canal Street, which is owned by Trinity Church. Two of the five reporters were arrested covering this action. We asked Mr. Loeser whether he felt that, by only referring to one of the events on the day of the raid, Mr. Browne was obfuscating the issue of arrests at the park. Mr. Loeser emphatically rejected that notion.
"Going into Trinity's space at 6th Avenue and Canal more than a mile from Zuccotti Park is not the clearing of Zuccotti Park," he said. "You are randomly saying that the issue at Zuccotti Park and the issue miles away, hours later that day when people protested afterwards are the same thing."
Mr. Loeser also noted his email was specifically responding to the fact many of the reporters named by the Awl did not have official credentials. He also pointed out the arrested reporters subsequently had their arrests voided, a distinction that may have been lost on reporters when they were in custody and unable to cover the protests.
"They weren't at Zuccotti Park. They just weren't," Mr. Loeser said.
We spoke with one of the reporters who was arrested that day and they told us they remain "mad" at Mr. Loeser because they feel his email and related tweets minimized the number of journalists arrested by only focusing on reporters with credentials. They also took issue that he pointed to the fact at least three of the arrested reporters were trespassing when they followed the protesters into Zuccotti Park as apparent justification for the arrests.
"I'm still so mad at Stu about these blasts of emails and tweets that he sent out claiming that it was all–that no media people were really arrested and that, if we were, it was really our fault. I'm still so pissed at him," said the reporter, who asked that their name be withheld because their employer would not want them speaking to another media organization.
As of this writing, Mr. Browne has not responded for a request to comment on this story.
Update (6/8/12 7:01 P.M.): The NYPD now says there were actually two reporters arrested during the raid.