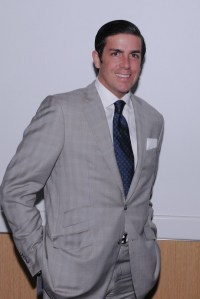 A few days after the party, The Observer received a terse text from Mr. Brady asking us to call him. We had been reaching out to those who RSVP'd for his party, asking how they knew him, and word had come back to him that we were snooping around. In a faltering, nervous tone, he said he was caught off guard by it.
We explained to him that this was just simple reporting. We were doing our due diligence.
"I guess I have to get comfortable with what this media thing is," he said with a sigh.
We found his response curious, given his highly visible activities. We had seen snaps of him surrounded by a gang of Indian women in their native country, shooting the breeze with the Hmong on the China-Vietnam border, posing casually with a cheetah somewhere in the African Sahara. Downtown Magazine dubbed him "The Most Interesting Man in The World." His life was like a Tina-era issue of Vanity Fair. Why so shy all of the sudden?
The son of Edward Alden Brady, a former ship captain and Chevron salesman, he was raised in the Larchmont section of Westchester. They shared a name—Mr. Brady goes by "Scott" to help differentiate himself—and a talent for the cello. They also shared a wanderlust: the elder Mr. Brady traveled extensively for work ("He's been around the world on a boat four times," the son recalled).
Mr. Brady's talent for the cello landed him at Oberlin College's Conservatory of Music, where he studied under Norman Fischer, a noted classical music teacher. The brawny Mr. Brady said he also played on the hockey team, eventually bowing out to protect his hands from potential injury.
When Mr. Fischer left Oberlin for a new position at Rice University in Texas, Mr. Brady followed him there and received the Fondren scholarship, earning his degree in in 1995.
At 25, he was awarded the 1998 Panasonic National Young Performers prize. At 27, he became one of the first Americans ever invited to a residency with a Russian orchestra at the Moscow Symphony. There, Mr. Brady endured 15-hour bus rides, eight-hour practices and a measly diet of canned food and scraps while somehow maintaining his sturdy physique (his fellow students, according to a 2000 Times article, nicknamed him Arnold Schwarzenegger).
The next year he returned to New York and started Musika, a private-music tutoring service that targeted wealthy areas in Westchester County and New Jersey. Musika grew from 15 teachers to 800 nationwide, becoming profitable enough for Mr. Brady to retire at the age of 33. He would not comment on Musika's annual profits. "I can do pretty much whatever I want at this point," he said. "I can travel, I'm able to lead the life I want to have."
On Musika's website, his biography elaborates on his "World Most Interesting Man" pedigree, noting that he is a member of Mensa, "an organization of people with high-level IQs." (A spokeswoman for Mensa confirmed that an Edward Brady from New York was a member in 2003–2004, but said that his membership had since lapsed).
After his retirement, Mr. Brady set out to travel the world. His travel itinerary reads like a list of locations for a Bond film: playing polo in Abu Dhabi, surfing in Bocas del Toro, Panama; traveling across Madagascar in an ox-led transport.
The photos of his travels are sweeping and sensational in composition and tone, which has led some to believe that he hired a photographer to document his adventures.
"Everyone's so curious about who's taking the photographs," he told us with a laugh. "I have a tripod, I have a Canon 5d Mark II, and there is a device called the Giga T Pro." The device, he explained, acts as a remote release that can be activated from a quarter of a mile away. He uses it to capture himself in tender, social moments, like speaking with the female members of the Maasai tribe, which he then posts to his Facebook page.
"That's why I identify with Scott," said Mr. Lee, while seated in his Murray Heights office. "There's no accidental postings. He's methodical and I'm methodical."