Perhaps, although that's not the first term one might apply to Mr. Lee, who likes to say there are three things he never pays for: "parking, publicity and pussy." His borscht-belt schtick and enormous bravado has brought him infamy (if Page Six still counts), sponsorships, and more publicity for Pretentious Pocket, his line of pocket squares, than might seem reasonable.
The day after his Times profile went online, he claimed he did three months worth of business in one day.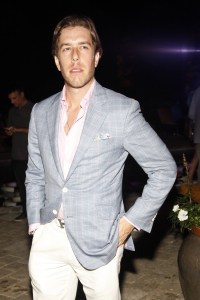 "I mean, I had them working through the Sabbath," Mr. Lee said, nodding toward a quiet and severe-looking intern who was typing on a MacBook air. "I said, 'No shul without drool.'"
He admitted that he played up his feud with the doorman at The Dream Downtown to provide some material for Bob Morris, the Times reporter who was following him around for the evening.
"I never would have gone to The Dream Downtown," he said. "I was going there because I had a New York Times reporter behind me. I set him up and he's stupid enough to walk right into the lion's den." [UPDATE: After this story was published, Mr. Lee wrote to say that he "misspoke and was referring to the stupid doorman," not to Mr. Morris. "Bob is a brilliant writer and journalist whom I respect."]
Such behavior is all part of the schtick. So is the peacockish attire—stylish and garish, in equal measure—guaranteed to draw glances. The Gatsbabies are not particularly concerned with how others see them, as long as they're being seen.
"People look at me and they're like, 'That spoiled prick,'" said Mr. Benedict, a 35-year-old attorney who recently launched his own practice, Benedict Advisors LLC. He didn't seem too concerned about that. Although there is one oft-made comparison he can't abide.
"Don't tell him he looks like Scott Disick. He hates that," said one female friend. We brought up his resemblance to Clark Gable, and the woman paused. "I don't know what Clark Gable looks like," she said flatly.
Mr. Benedict says he has earned his pinstripe C. Oliver Custom Suits. At Mr. Brady's party, he recalled a hardscrabble childhood in upstate New York, working lousy jobs at grocery stores and McDonald's throughout high school while being raised by a single mom.
"I literally was using foodstamps," he said. "Justin never did that. He wore nice Brooks Brothers clothes that his parents bought him, you know what I mean?"
He won a scholarship to Colgate while working in the school library, then went to Columbia Law School and put in time at White & Case and The ACE Group before eventually launching his own firm.
Mr. Benedict was at one time engaged to a woman he met through taxi driving matchmaker Ahmed Ibrahim (their pairing was featured in a 2008 Wall Street Journal article). He said he adopted the name "Thomas Pink," a pseudonym he uses primarily on Facebook, in the interest of personal safety—to protect him from his now ex-fiancée.
"Girls would post on my [Facebook] wall funny things, and she would take it the wrong way," he recalled.
There was also the enterprising stalker who broke into his Upper East Side apartment as he was attending a charity event. "She called and said, 'I'm inside your apartment, Tabber. It's really nice! My friend Tyrone is here, who has brought me some party favors,'" he said.