Nonetheless, he noted that getting his face out there as much as possible—attending the Seeds of Africa charity event, co-hosting the First Annual Post-Walk Celebration to Benefit Breast Cancer Victims—helps to shore up business.
"You don't meet people in your bathroom, or like on your sofa, watching Game of Thrones," he said. "I meet people out, and that's how I meet my clients."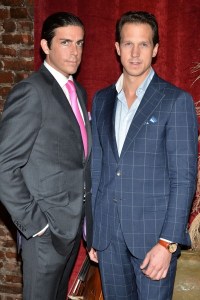 We were at 286 Spring Street for the launch party of TheCityStreet.com, an "exclusive" global directory of bankers founded by former investment banker Vana Koutsomitis. Mr. Benedict did not know Ms. Koutsomitis, but as the party lagged, he pulled her aside and offered to call a photographer from Patrick McMullan's agency. Within 30 minutes, the photographer arrived, Ms. Koutsomitis happily posed with friends and colleagues, and the vibe picked up considerably.
"He sort of looks like Scott Disick," Ms. Koutsomitis whispered to us.
The night was a success for Mr. Benedict. He had walked in virtually a stranger, and had left with a few business cards of prospective clients. However, as he has learned, the more public the face, the less understanding the girlfriend.
"The last time I checked, I want my lawyer to be as discreet and dorky and smart as possible, not some philandering playboy," said Elizabeth Stockton Howard, his blue-blooded, Princeton-educated paramour.
When asked what it's like dating an internet personality, she replied, "It's awful! I think about breaking up with him everyday because of that!"
Edward Scott Brady does not have a girlfriend to take issue with his activities. But he blanches at the idea that he is aggressively self-promotional.
"I never think I am actively necessarily promoting myself," he said, sipping from a beer at the rooftop bar at the James Hotel. "I am just doing what I want to do, and traveling, and that is what I am becoming, and what people see me as. Why am I am traveling around the world? Because I want to do it. I'm not thinking about packaging."
"Edward Scott doesn't have the same media focus that Justin does, obviously," said Mr. Benedict. "That's Justin's life. I would of course argue that I have a different focus than Justin, too. My focus is on more of the high-end charity events, because that's what I care about. Justin does a lot more club parties."
Differences aside, all three of them owe a debt of gratitude to Scott Fitzgerald's indelible playboy.
"That was one of my nicknames," Mr. Brady admitted. "'Gatsby, what are you doing tonight?' Especially in the Hamptons."
"We tickle people's curiosity," Mr. Lee said. He's found that, as it was for Gatsby, a certain air of mystery can be useful. "The first question I get is 'What do you really do?'" he said. "And that's how I know I've garnished their attention, and that's how I know it's a three-pointer."
drosen@observer.com