The girls, so many girls, dressed in pastel-colored wraps that bared shoulders and the swells of their cleavage, clacked their Louboutin heels up a SoHo staircase one muggy May evening.
At the landing, visibly breathless and sweaty, their eyes lit up. They had entered the penthouse loft of Edward Scott Brady, the boyishly handsome world traveler, former classical cello virtuoso and "retired entrepreneur," who was throwing a "Welcome Back Bash" to honor his return from his seventh trip around the globe.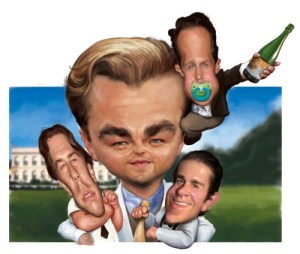 Demonstrating a generous spirit, he had posted news of the party to Facebook and Guest of a Guest, luring in hundreds of friends and friends-of-friends, the more the merrier, and plying them with premium booze.
The apartment had all the trappings a wayfaring bachelor requires: the cello, a relic from Mr. Brady's days playing at the Kennedy Center and Avery Fisher Hall; the African ceremonial masks, collected on his jaunts to the subcontinent; the large antique globe; the red-felt billiards table; the framed photos of Mr. Brady from his journeys.
It was, in the estimation of one female guest, "shit-tastic."
"He's, like, famous dude," said Dmitry Astafev, a Russian entrepreneur who learned about the party through his girlfriend, who had been forwarded a Facebook invite and actually didn't know Mr. Brady, either.
No matter. Sooner or later, it is safe to say, we will all know Mr. Brady.
"My boyfriend met him in the Hamptons," said a blond-haired woman in her early 20s.
"I met him at Cyril's," claimed another woman.
The place was packed with bros in suit-coats and more babes in slinkier-than-thou dresses, in the appraisal of Justin Ross Lee, than one could shake a stick at.
"Unfortunately for these ladies, I've already shaken my stick at most of them," he added with a wink.
Mr. Lee is an entrepreneur and shameless self-promoter, whose reputation, like Mr. Brady's, preceded him.The day before, he had been the subject of of a comical New York Times Styles Section profile that depicted him, among other things, tussling with a doorman at The Dream Downtown and bragging about his first-class travels to the Middle East and Europe ("Jew Jetting," as he proudly refers to it on his Facebook page). Mr. Lee hadn't made Mr. Brady's acquaintance either—not yet—though their meeting seemed preordained.
"Unlike me, Edward seems to be very well-liked and a lot less controversial, which means he sleeps better at night than I do," Mr. Lee quipped.