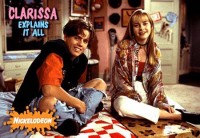 Every now and then, something from the daily Publisher's Lunch email—which tells of the latest book deals in the publishing industry—will catch our eye.
Today, it wasn't the fact that only now is the first major biography of choreographer George Balanchine being written (by the dance critic for The New Repbulic, sold to Random House, for publication in 2018, by which time, we will only attend dances performed by robots).
Nor was it the memoir of Graham Nash (of Crosby, Stills, Nash and Young*), sold to Crown for publication in 2013.
It was the news that was, quite literally, buried at the bottom of the email: The sale of the memoir of Melissa Joan Hart. Granted, the erstwhile Sabrina: The Teenage Witch star isn't the biggest name in Hollywood these days (though a quick IMDB search shows that this ABC Family show she's doing or did with the guy from Blossom is a whole thing, apparently), but she sure knows how to sell up front:
Actress Melissa Joan Hart's MELISSA EXPLAINS IT ALL: Tales from My Abnormally Normal Life, to Michelle Richter at St. Martin's, for publication in fall 2013, by Alyssa Reuben at Paradigm and Gordon Gilbertson at Gilbertson Entertainment.
Most people with disposable income that'd spend money on Melissa Joan Hart's memoir likely remember her for Clarissa Explains It All, the Nickelodeon show that made her famous, in which she was an overly precocious teenager with a quirky suburban family; in a sense, the early iteration of the Manic Pixie Dream Girl, a post-Riot Grrl prototype. All of those people who adored her for all of those things will consider buying the book explicitly more because of its title, which promises not to bury the lede and to deliver on that which readers probably want most: Stories about Clarissa Explains It All.
And that is how you title a book.
fkamer@observer.com | @weareyourfek
[*If you didn't already know that, you should be banned from doing anything until you listen to Songs for Beginners, which should be on every list of the most heartbreaking and wonderful rock albums of all time. Forget lists: It should come with every download of iTunes so people know what great music sounds like. In fact, just do yourself a favor and watch this video, even if you have heard of them, before you do anything else today. You'll be a better person for it.]