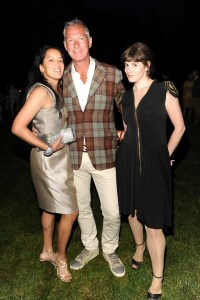 The estate was an incredible labyrinth of topiaries. I soon learned that Mr. Kemper and Mr. Ingrao have done homes for Kim Cattrall, Howard and Beth Ostrosky Stern and Suzy and Jack Welch, in addition to designing this insane palace of shrubbery. My heels kept getting stuck in the mud—dead giveaway of a Hamptons newbie, I soon learned. (Real women wear wedges.) Since the party ended at 9, we scrambled around the maze looking for our hosts. We needed a picture with our hosts! Due to our tardiness, we'd already missed a bevy of celebrities: Donny Deutsch, Aviva Drescher, Ford Huniford, Marjorie Gubelmann, and every socialite in the entire world.
Cassandra was on a tear, desperate to have Patrick McMullan take my photo with Mr. Kemper. Finally, a beleaguered Mr. McMullan came over and I traded him a cigarette for a snap.
And then it was off to the Hamptons Players Club, where partner Frank Cilione sat us at a prime table and I ordered a lobster stuffed with lobster and topped with lobster bisque (sounds redundant but it wasn't).
The next morning, after I devoured Ms. Seidenfeld's leftover lobster for breakfast, she and I and our floppy hats braved the traffic back to Manhattan.
Dropping me at my apartment, Cassandra insisted I come to Jean Shafiroff's party next week. With that, she hopped back in her Audi with a Ferrari engine and peeled away.
"You bet your [REDACTED]," I mumbled, sliding into my cool sheets, already counting the sheep that would graze on the lawn behind the high privet hedge in whichever Hampton I would one day have the good fortune to live in.