No wonder they lost track of client money: The two trustees seeking to recover claims against MF Global provided some fascinating detail this week on how the failed broker-dealer shuttled funds.
Louis Freeh, the trustee unwinding the MF Global parent company under Chapter 11, said the firm moved some of its risky bets on European debt into an unregulated entity to avoid demands that the firm set aside capital in case the bets went bad. James Giddens, meanwhile, the trustee liquidating the firm's brokerage unit, provided some lovely graphic examples of how assets moved within the firm (H/t Alphaville):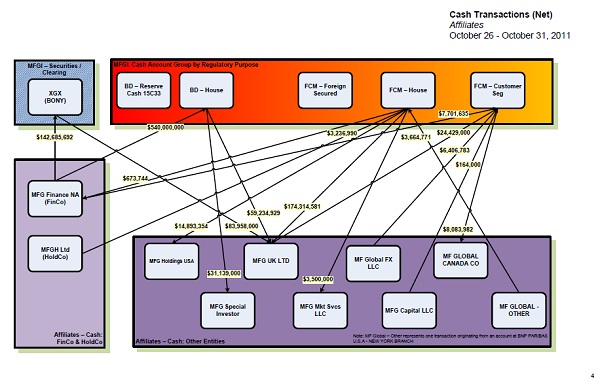 According to The Times' reading of the Freeh report, MF Global and its CEO, Jon S. Corzine, haggled with its regulators FINRA and the SEC before agreeing to set aside additional funds to cover potential losses on proprietary bets on Belgian, Irish, Italy, Spanish, Portuguese and Italian bonds.
While MF Global did move some cash around to protect against losses, the firm also transferred its roughly $3 billion in holdings of Italian bonds from the brokerage arm of the company to the "FinCo," according to the report. By doing so, the firm met its requirements without having to raise money.
Mr. Freeh said that the firm's creditors, including lenders, institutional investors and service providers, could seek as much as $3 billion in claims. For his part, Mr. Giddens is deciding whether to charge Mr. Corzine and other executives with "breach of fiduciary duty and negligence."